Back to top
Damm Foundation donates 10,000 litres of isotonic drinks to the Red Cross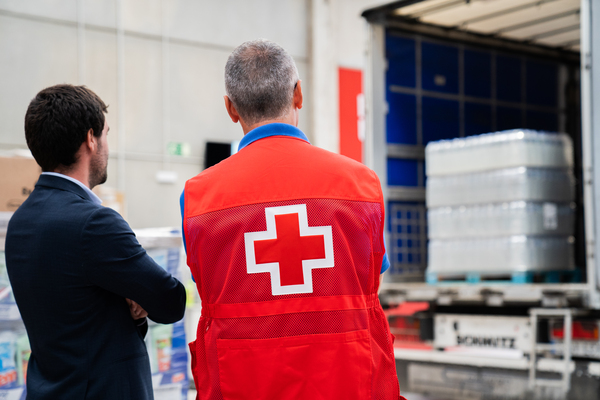 They will be used for the fire campaign with the fire brigade this summer
The Damm Foundation has donated 10,000 litres of isotonic drinks from Font Salem to the Red Cross in Catalonia, which will go towards covering the basic needs of the firefighters of the Generalitat de Catalunya during this summer's firefighting campaign. The donation took place at the organisation's Humanitarian Centre, located in San Martín de Tous, from where aid is distributed throughout Catalonia.

The Damm Foundation maintains a close relationship with the Red Cross, with which it has been collaborating for years. The International Red Cross and Red Crescent Movement is a humanitarian organisation with a worldwide presence that was founded in 1864 to protect life and health. On 2020 the Foundation provided important support to the Red Cross RESPONDE Plan during the Covid-19 health crisis, for which our vice-president, Ramon Agenjo, received the Red Cross Distinction of Honour from Josep Quitet, president of the Red Cross in Catalonia.

In 2021 the Foundation continued to offer assistance to the Red Cross and gave 535 towels and 69 T-shirts to meet the basic needs of the people the humanitarian organisation cares for. In addition, the Damm Foundation also sponsored the 1st Red Cross Solidarity Golf Tournament, which took place at the Sant Cugat Golf Club and raised 10 tonnes of food for the Red Cross RESPONDE Plan.

Go to www.cruzroja.es to learn more.