Back to top
The Damm Foundation publishes 2019 Annual Report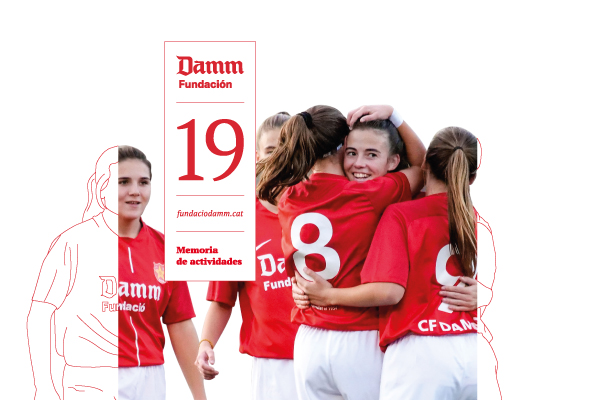 The organisation celebrates its coming of age while supporting its in-house projects and helping them grow: CF Damm, CP Damm and the Damm Historical Archive
The Damm Foundation digital Annual Report for 2019 reflects a year full of hard work and enthusiasm from the Foundation team. A commitment to sponsorship was at the core of the Foundation's activities, partnering 88 cultural, social and sports organisations.

In the year in which the Foundation turned 18, its in-house projects have grown and evolved. Damm Football Club, a football school that celebrated its 65th birthday and that fosters values such as sportsmanship, companionship, resilience and professionalism, achieved important successes, including the Women's Under-19 team winning the League and the Championship of Catalonia.

The Damm Paddle Tennis Club, founded in 2012, has become a benchmark for the training of paddle tennis in Spain. In 2019 it boasted a new look and trained the young players who won the award for the Best Competition Club 2019 from the Madrid Paddle Tennis Federation.

"Our Clubs are built on many hours of hard work, sacrifice and passion. Teamwork, respect for the rival and fair play are fundamentally important," notes Demetrio Carceller Arce, President of the Damm Foundation. "I am therefore especially pleased with the achievements of the 268 players, under the careful eye of the 89 members of technical staff."

Another of the Foundation's in-house projects is the Damm Historical Archive, which houses a heritage of great historical and cultural value. During 2019, the inventory continued, adding 1,743 new items to the register, as did the digitisation of the Archive, which now has more than 117,000 digital images.

The Damm Foundation continues to work, as it has done since the beginning, with the aim of helping to improve people's lives by contributing to the construction of a better society by fostering and supporting training and personal development initiatives.

Read the report here.