Back to top
Damm lights up its walls in red to raise awareness about the fight against AIDS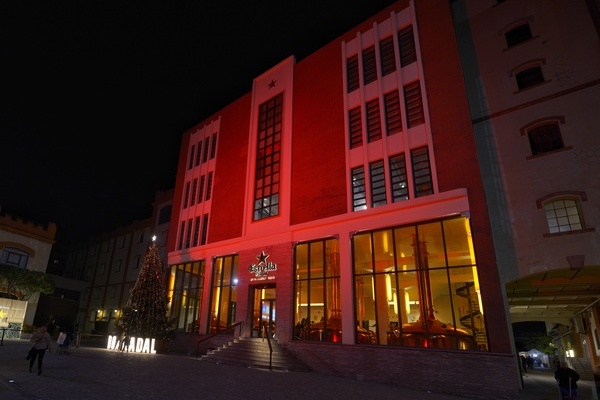 For the seventh consecutive year the company supports the awareness campaign launched by the Fundación Lucha contra el Sida
Damm pledges its support for the seventh consecutive year to the Fundación Lucha contra el Sida in recognition of World AIDS day, illuminating the walls of two of its iconic buildings, the Estrella Damm Old Brewery and the Estrella Damm factory in El Prat de Llobregat.

The exterior of the company's buildings will be bathed in red light from six o'clock in the evening until after midnight on 1 December, with the aim of raising awareness for the necessity to continue to fight the disease which affects almost 38 million people worldwide. This campaign, promoted by Fundación Lucha contra el Sida, also involves the most prominent buildings in cities across the country with the intention of giving greater awareness of HIV and making society more conscious of the need to continue the fight to eradicate this disease.

Damm confirms its support for this cause, often considered to be a controlled disease, and yet still causing thousands of deaths every year. According to the Joint United Nations Programme on HIV/AIDS (UNAIDS), there were 1.7 million new HIV infections and 690,000 related deaths in 2019.

Since its foundation in 1992, Fundación Lucha contra el Sida has launched several campaigns to raise awareness about the discrimination and stigma surrounding HIV. The foundation also organises charity events and initiatives aimed at raising funds for research into preventing and curing this disease.

Damm, is a socially responsible company

Damm's commitment to community is part of its DNA and is reinforced year after year thanks to its participation and active support of numerous causes in areas such as gastronomy, music, culture, sport and the environment. The Damm Foundation, the entity that supports Damm's many patronage and philanthropic activities, invested 3.74 million Euros in 2019, earmarked for the development of 88 projects conducted by several social, cultural, sports and educational organisations.

The initiative to illuminate the outer walls of Damm's buildings is a part of the company's corporate responsibility strategy, which encompasses a large amount of activities carried out throughout the year as a sign of its social commitment. The Estrella Damm Antigua Factory and the Estrella Damm factory in El Prat de Llobregat are lit up every year to commemorate various other world events as well, including World Breast Cancer Day and World Autism Day.