Back to top
Demetrio Carceller Arce, awarded for his contributions to national and international padel tennis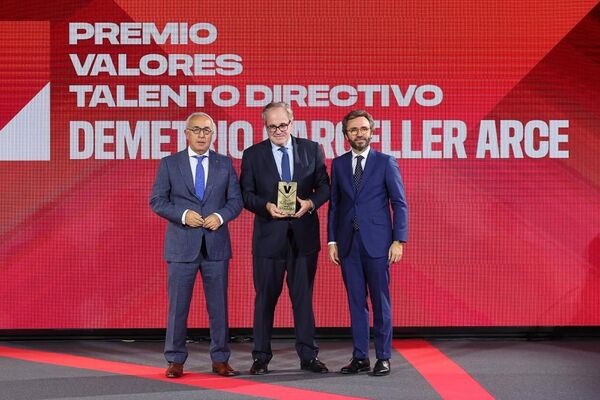 Demetrio Carceller Arce, executive chairman of Damm, has been honored with the Management Talent award in the IV Gala Valores del Deporte, hosted by Diario Sport
Demetrio Carceller Arce, executive chairman of Damm, was honored yesterday with the Management Talent award in the IV Gala Valores del Deporte, which took place in Madrid at the headquarters of the Spanish Olympic Committee. This award acknowledges Carceller Arce as a key figure for the growth of padel tennis both within our country and internationally.
Diario Sport organizes these awards to highlight the social commitment of athletes, clubs, and other entities who, with their efforts have contributed to drive values inherent to the sport, such as effort, solidarity, discipline, and self-growth.


Carceller Arce, a tennis enthusiast, saw the potential of the padel at the sports, social, and business levels, in addition to this sport's ability to drive together people from diverse generations. In the decade of the 90, this droves him to propel the Circuito Estrella Damm, Spain's first amateur circuit, where every year gathers more than 10.000 players.

In 2013, took another step toward the professionalization of this sport by creating the World Padel Tour, the first international padel circuit of the world, which has already spread to more than 20 different countries and is followed by over 4 million people on social networks.

Carceller Arce's gamble has contributed to make padel tennis through these last few years into the fastest-growing sport around the world.

In his speech, Carceller Arce highlighted the role of the Damm Foundation to the promotion of sports such as football and padel, and specially the efforts it makes to promote the values and the spirit of sportsmanship. In addition, he wanted to share the award with Ramón Agenjo, president of the World Padel Tour, and Cristina Fernandez-Cid, Chairwoman of Rumbo Sport who organizes the Circuito de Pádel Estrella Damm, to thank them for their dedication and drive in search for the development of padel tennis.