Back to top
Ecovidrio commits to a 82% recycling rate by 2025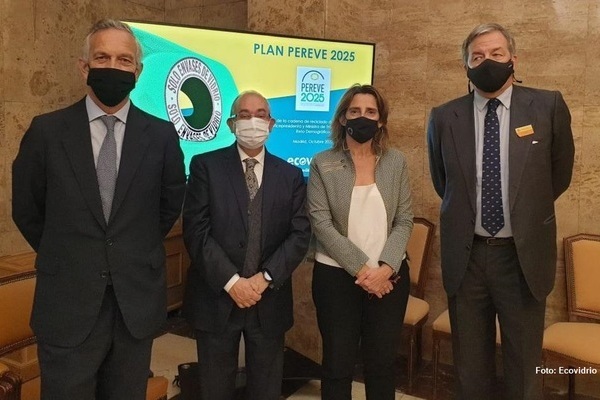 Jorge Villavecchia, CEO of Damm, is also the vice president of this company, which has promoted the 2020-2025 Glass Packaging Recycling Strategy
Ecovidrio is a Spanish non-profit entity that manages glass packaging waste recycling, with Jorge Villavecchia – CEO of Damm – as its vice president. Last October, the company presented its 2020-2025 Glass Packaging Recycling Strategy to Teresa Ribera, the fourth vice president and minister for Ecological Transition and Demographic Challenge, Hugo Morán, secretary of state for the Environment, and Ismael Aznar, director general for Environmental Quality and Assessment.

Ecovidrio has stated that this strategy, which involves a 500 million euros investment, proves the shared commitment of all the agents that take part in the Spanish glass packaging recycling value chain to efficiently and sustainably outperform, in the next five years, the glass packaging recycling goals established by the newest European Directives on waste, packaging and packaging waste. As the European rules – that need to be transposed to the Spanish legislation by 2021 – set glass recycling goals at 70% by 2025, as per the latest calculation method, Ecovidrio is committed to reach almost 82% by then, which means they are going to collect 90% of the glass packaging put on the market.

The use of new technologies and Big Data analysis, the implementation of state-of-the-art waste collection contests in resource planning, sustainability and efficiency, the intensive operations in collaboration with the HORECA (food service) sector, the commitment towards containerization, the citizen mobilization and the increase in the number of areas directly managed by Ecovidrio are some of the main points around which the roadmap has been developed.

The ambitious goals contained in the strategy involve a firm commitment to move towards circular economy, to fight against the overexploitation of resources and climate change and to achieve the 2030 Agenda goals (SDG 11, SDG 12 and SDG 13).

Jorge Villavecchia, CEO of Damm, went as the Ecovidrio vice president to the meeting in which up to 20 spokespersons took part virtually to represent the different recycling value chain processes: the manufacturer that uses glass packaging, the main waste selective collection companies, all the Spanish glass processing and recycling plants (14), the national glass factories (13), the Spanish hospitality sector, as well as distribution chains and consumer representatives.