Back to top
Ester Sánchez, from Pintxame Gastrobar in Cieza, wins the '1st Regional Estrella de Levante Beer Pulling Competition'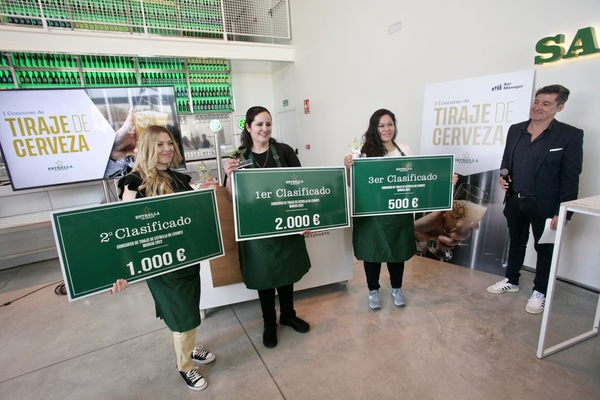 Isabel Cristina Pérez, from Complejo Hostelero La Fuente (Fortuna), was second and Diana Marcela López, from El Buen Paladar (Murcia), third.
The Estrella de Levante Brewery Tasting Room hosted the final of the '1st Regional Beer Pulling Competition' promoted by the Murcian brewery through Bar Manager. Ester Sánchez, from the Pintxame gastrobar in Cieza, was the winner among the 405 people who entered this first annual event.

To enter the competition, participants were required to upload a video to the competition platform in which they were seen pouring a beer. From the videos submitted, the jury selected 10 finalists who made it to the grand final.

Ester Sánchez, from the Pintxame gastrobar in Cieza, was the winner of the first annual event of this competition. Second place went to Isabel Cristina Perez, from the La Fuente catering complex in Fortuna, and third place went to Diana Marcela López, from the El Buen Paladar restaurant in Murcia.

In the first annual event, the jury was made up of the journalist Joaquín Reyes, from the magazine Gastrónomo; Antonio Chacón, professor at the CCT; Marta Abellán, head of the Gastronomic Communication agency YAAAS and El Perfume Bar; Héctor Pastor, beer sommelier at Estrella de Levante; Silvia Abenza, head of Estrella de Levante's Quality Department; Jorge Soto, Estrella de Levante's Commercial Director; Maribel Romero, Estrella de Levante's Marketing Manager and Yayo Delgado, Estrella de Levante's Communication and External Relations Manager.

The jury took into account criteria such as the technique used (opening the tap, inclination of the glass, pressure, etc.), the presence of bubbles, the rinsing of the glass and the presentation of the beer on the bar, among many others.

With this first beer pulling competition, Estrella de Levante highlights the work of the hospitality professional, as well as promoting good beer service and beer culture; a fundamental practice for the customer to enjoy all the nuances of the beer brewed at the Espinardo brewery.