Back to top
Jorge Villavecchia talks about sustainability at MadBlue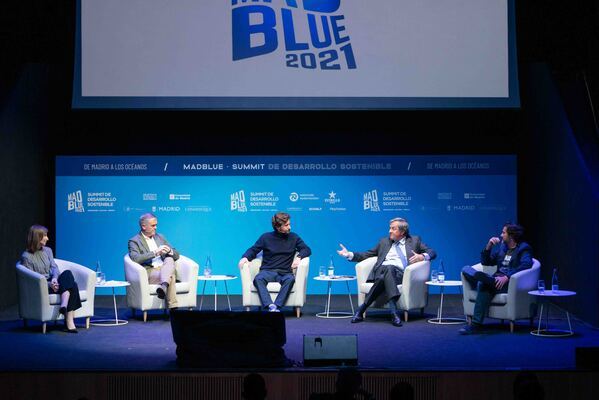 The CEO of Damm participated in the first summit of MadBlue, the festival for sustainability
The first MadBlue Summit 2021, the congress that brings together innovation, culture and sustainability, has brought a week of physical and interactive experiences to the centre of Madrid, offering citizens a unique and different way of experiencing sustainability and strengthening the emotional ties between the community and its environment. From 16 to 22 April, different icon buildings in Madrid - La Casa Encedida, Centro Conde Duque, Medialab Prado and Treatros de Canal - have hosted an intense programme of activities characterised by a commitment to cultural innovation, environmental responsibility and good artistic practices. They bring together creators, experts and innovators from all over the word to showcase best practices towards sustainable development.

Jorge Villavecchia, CEO of Damm, inaugurated the MadBlue conferences at the Centro Conde Duque, a three-day cycle of conferences and debates that brought together representatives from the business, institutional, artistic, scientific and academic worlds to create conversations and solutions around the change towards a more sustainable world based on innovation, culture and science.

In this inaugural speech, Villavecchia stressed that "sustainability is a priority for the company and, therefore, this commitment translates into significant recurring investments that we will continue to make". He expressed his conviction that "sustainability is not a cost. We must invest in changing production processes to continue moving forward". Villavecchia also stressed that "our business covers the whole process, from the field to the table, from manufacturing to packaging and delivery of the product, and we work to ensure that sustainability permeates all the activities of a company".

Jorge Villavecchia also took part in the round table debate on "sustainable development: businesses, society and culture" together with Carlos González, director-general of Nationale-Nederlanden España; Javier Goyeneche, CEO and founder of Ecoalf; Susana Gato, director of CSR at Atresmedia, and Luis Prieto, CEO and founder of MadBlue and moderator of the debate.

In his speech, the CEO of Damm stressed that "all this work on sustainability is not possible without working together with our suppliers. (...) When you incorporate the concepts of sustainability into your relationship with your suppliers, you help them to improve. One example is working closely with the producer to make a long-term plan and this applies to all other facets of the production process. It is the value chain that needs to be worked on."