Back to top
Estrella Damm starts tests to end the use of plastic pack rings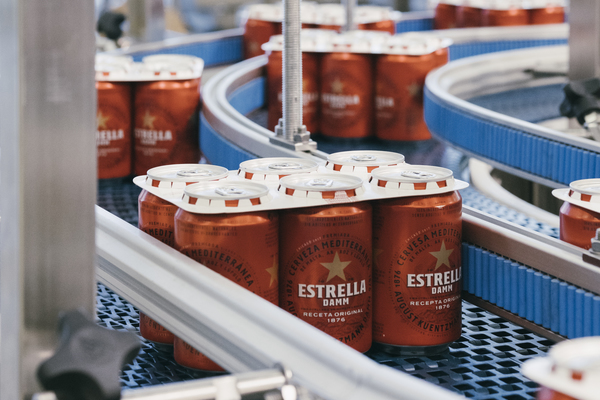 • The company is in the testing phase of a new system which holds cans together with 100% biodegradable cardboard packaging instead of plastic pack rings.
• Ending the use of plastic pack rings in all Damm brands would mean the elimination of almost 89 million pack rings per year.

Barcelona, 8th April 2019 - As part of its 2017-2021 Strategic Plan, Damm is working on ending the use of the plastic rings used to hold packs of cans together, with the introduction of new packaging made of completely biodegradable materials.
The company is carrying out a pilot test with the Estrella Damm brand, which will soon see the first packs without plastic rings in some supermarkets. The new LatCub® system by Alzamora holds the cans together using 100% biodegradable cardboard packaging, made with 100% natural fibres from sustainably and responsibly managed trees with the FSC certificate. This certificate guarantees that products are from forests that are used rationally, following international environmental, social and economic standards.
"The introduction of the new packaging system for packs of cans, made with 100% biodegradable materials, represents a major step forward in Estrella Damm's commitment to the environment and its protection, which is one of our main strategic pillars. We are very proud to implement this system, which is pioneering in the brewing sector, and to start to end the use of plastic pack rings", says Karen Peiró, Damm master brewer.
If Damm achieves the results it hopes to, the system will be applied to the production of all the company's cans, meaning that all Damm brands will stop using plastic pack rings. This would mean a reduction in in the use of more than 260 tons plastic per year, the equivalent of almost 89 million plastic pack rings.
With this first test, Damm reinforces the company's commitment to sustainability by implementing effective measures that minimise the environmental impact of its activity. All of the company's staff, customers, suppliers and other collaborators are involved in this process. Respect for the environment is a priority in the company's 2017-2021 Strategic Plan. Damm continues to work on promoting measures to reduce the use of natural resources, to generate renewable energy and to move towards a circular economy model of production.
www.estrelladamm.com/sostenibilidad