Back to top
Ten summers Mediterráneamente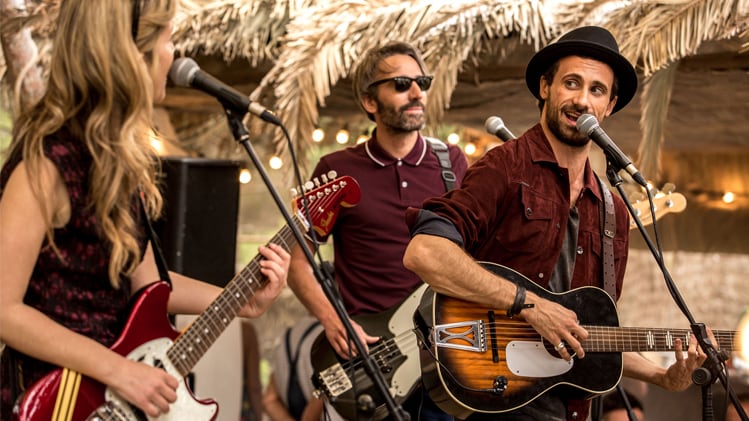 Estrella Damm premieres its first musical short film with the Mediterráneamente summer songs
With freshness and energy, Michelle Jenner and Oriol Pla rise to the challenge of singing and dancing in Álex y Julia, the new short film by Estrella Damm that brings together all the summer songs of the Mediterráneamente campaigns.

From director Dani de la Torre, who shines in this musical after disturbing us with his thriller El Desconocido (Retribution), the short lets us be carried away on an authentic emotional roller coaster in which we remember past summers through the melodies made popular by Estrella Damm. The trip down memory lane culminates in a fantastic performance, by Billie The Vision & The Dancers, of Summercat, the great song that boosted the popularity of this Swedish group in the first advertisement in 2009.

Coinciding with the celebration of 10 Mediterráneamente campaigns, the island of Formentera is again, as on that first occasion, the natural setting for the fun sound journey of Álex (Pla) and Julia (Jenner), two musicians who play cover versions but follow their dream of composing a song of their own.

The songs of previous summers form the thread of the story, in which Jenner elegantly sings Fantastic Shine, by Love of Lesbian, and Pla enthusiastically belts out I wish that I could see you soon, by Herman Düne. The short film ends with the two protagonists miraculously, and funnily, composing the same song simultaneously, The place to stay, inspired by the beauty of a sea which they both absolutely adore. This campaign's catchy song, inspired by the Mediterranean, is actually by Toni M. Mir, and is performed in a memorable scene on the beach at night, where the screen splits into two and we see in parallel the heartfelt performances of Jenner and Pla, who let themselves get carried away by an irresistible choreography, with musicians and dancers.

It is possible that Álex and Julia only have in common a distant summer fling, and their taste for cold beer drunk from the bottle, of course, but if there is one thing that this campaign expresses, in which Oriol Villar returns as creative director, it is that they share with us the Mediterranean feeling and way of life. The sea is the best reflection of this, of recent summers captured in this musical short film, the sounds of a generation.



ADDITIONAL INFORMATION

The 10 summer Estrella Damm Mediterráneamente campaigns
2009    Formentera                                                   Summercat, Billie The Vision & The Dancers
2010    San Juan                                                       Applejack, The Triangles
2011    elBulli                                                            I wish that I could see you soon, Herman Düne
2012    Serra de Tramuntana                                    You can't say no forever, Lacrosse
2013    Love of Lesbian                                             Fantastic shine, Love of Lesbian
2014    Santa Clara Fest                                            If you wanna, the Vaccines
2015    Vale, de Alejandro Amenábar                        Our place, Maïa Vidal
2016    Las Pequeñas Cosas, de Alberto Rodríguez   Those little things, Ramon Mirabet
2017    La Vida Nuestra, de Raúl Arévalo                  (Don't fight it) Feel it, AaronChupa
2018    Álex y Julia, de Dani de la Torre                   The place to stay, Toni M. Mir

Michelle Jenner, actress
Cinema, television and voice-over actress, Michelle Jenner comes from a family closely linked to the worlds of the arts and the theatre. In 2000 she made the leap to the big screen with Faust: Love of the Damned; in 2012 she was nominated for the best actress Goya for her role in Don't be afraid; and she won an Ondas award as best actress for the television series Isabel, mi reina in 2013. This year, 2018, sees the premiere of two films in which she acts: La sombra de la ley (directed by Dani de la Torre) and Mi amor perdido (by Emilio Martínez Lázaro).

Oriol Pla, actor
Oriol Pla is a television, theatre and film actor, best known for his roles in the films Ebro, de la cuna a la batalla (2016), Truman (2015) or Incierta gloria (2017). His role in Incierta gloria won him the best supporting actor Gaudí award. He recently participated in Petra, a film by Jaime Rosales, which will premiere at this year's Cannes Film Festival.

Billie The Vision & The Dancers
Billie The Vision & The Dancers are an indie-rock group of Swedish origin, who became popular in Spain with Formentera, Estrella Damm's first Mediterráneamente campaign, filmed in 2009 on the Balearic island. Formed in 2004 and based in Malmö, they have released five albums and a compilation, which they distribute for free through their website, in addition to releasing them on CD.

Dani de la Torre, director
Director, filmmaker and scriptwriter. Dani de la Torre studied Audiovisual Studies and since 1996 has worked as a television director. He combines this work with film directing and making short films and video clips. His film debut was El Desconocido (Retribution) (2015), and he is about to release La sombra de la ley, starring Luis Tosar and Michelle Jenner.

Oriol Villar, director creativo
The Creative Director of the new Mediterráneamente campaign is once again Oriol Villar, who, with his team, has worked on many of Damm's campaigns over the years. Villar has been the creator of many memorable slogans, including Voll-Damm's "Double or Nothing" or Estrella Damm's "Mediterráneamente ".