Back to top
'Zeus & Apollo', the new Voll-Damm campaign starring Luis Tosar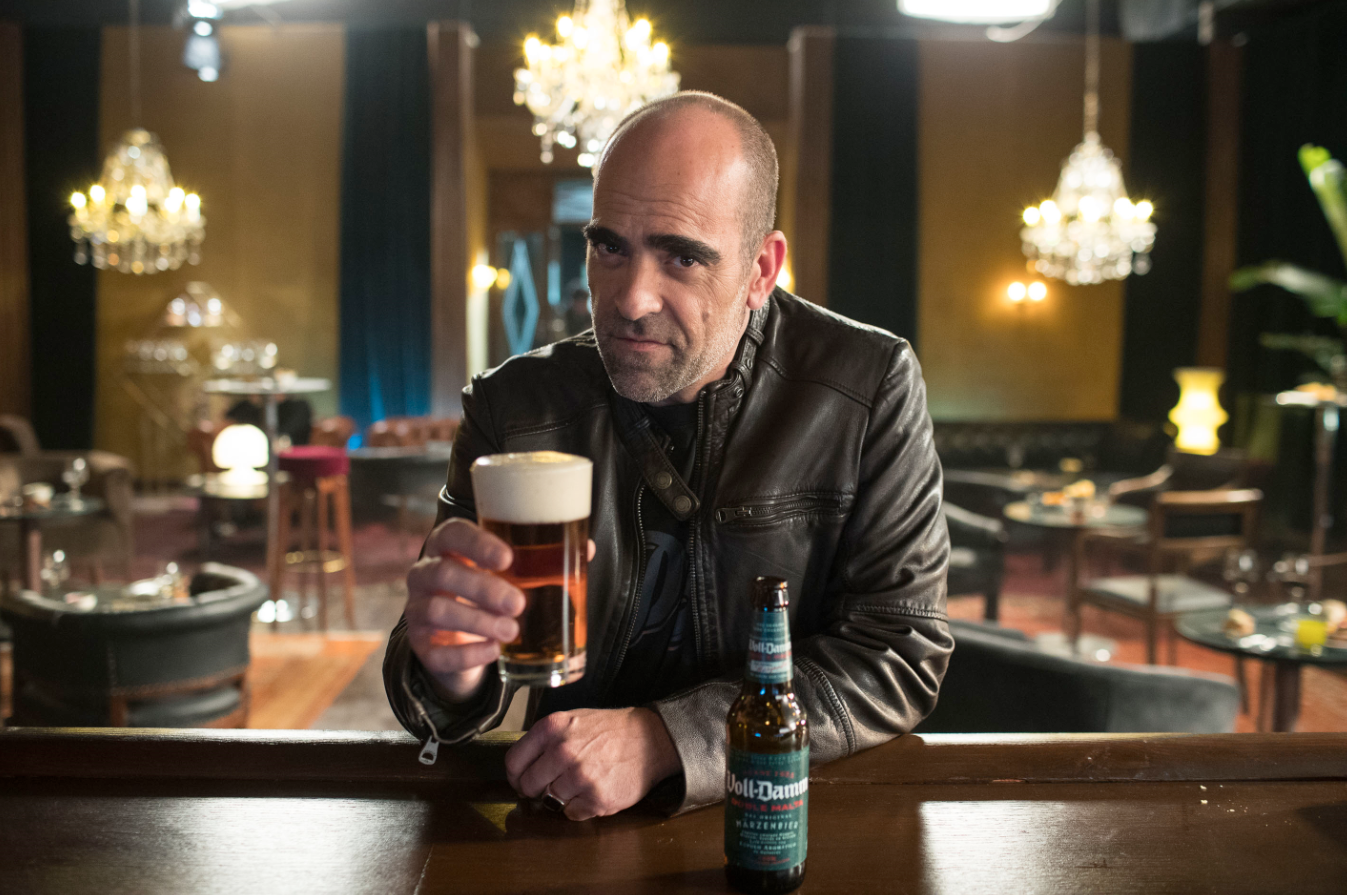 ·The actor stars in a Voll-Damm spot again, showing once more what he is capable of doing to get this double-malt beer

·The campaign, directed by Dani de la Torre, also features the actors Luis Zahera and Chani Martín

·The new campaign coincides with the launch of the new image of Voll-Damm, which highlights the brewing process
Luis Tosar and Luis Zahera are back in the new Voll-Damm campaign, this time directed by Dani de la Torre and with Oriol Villar as creative director. "Zeus & Apollo" is the sequel to the mythical "No my friend, not all beers are the same" campaign, which the double-malt beer brand premiered in 2016. Tosar and Zahera are joined by Chani Martín, who ends up as the victim of the story.

The launch of this new campaign coincides with the recent introduction of Voll-Damm's new look, which aims to highlight the double-malt beer's origins and to show, at first glance, all the information its followers need. Voll-Damm's image has changed, but not its unmistakable flavour, which has won it many awards throughout its history.

LINK TO THE SPOT: https://youtu.be/yc0qvcCtuBo
LINK TO HIGH-RESOLUTION PHOTOS: https://goo.gl/S3qU4i



Dani de la Torre, director
Director, filmmaker and scriptwriter. Dani de la Torre studied Audiovisual Studies and since 1996 has worked as a television director. He combines this work with film directing and making short films and video clips. His film debut was El desconocido (Retribution) (2015), a thriller starring Luis Tosar and he is about to release La sombra de la ley, also starring Luis Tosar.

Oriol Villar, creative director
The creative director of the new Voll-Damm spot is once again Oriol Villar, who, with his team, has worked on many of Damm's campaigns over the years. Villar has been the creator of many memorable slogans, including Voll-Damm's "Double or Nothing" or Estrella Damm's "Mediterráneamente ".

Luis Tosar, the protagonist
Luis Tosar began acting at a very early age in plays with local companies, encouraged by his literature teacher. Years later, he found fame with the television series Mareas Vivas and, after that, on film, in Flores de otro mundo (Flowers from Another World) in 2000 directed by Icíar Bollaín, for which he was nominated for the Best New Actor Goya award. Three years later, Luis Tosar became even more popular when he made Los lunes al sol (Mondays in the Sun), starring alongside Javier Bardem, for which he won the Best Supporting Actor Goya. Since then, he has continued to make feature films, among them Celda 211 (Cell 211), playing the character of Malamadre, for which he won his latest Goya.

Luis Zahera, the waiter
Luis Zahera has acted in numerous feature films, some of which are considered by critics as real gems, such as Los lunes al sol (Mondays in the Sun), El lápiz del carpintero, Diario de un skin, Alatriste, Hotel Tívoli, Los años desnudos or Celda 211 (Cell 211). The actor has won many awards during his career.

Chani Martín, Luis Tosar's double
Chani Martín has had a long career as a theatre, film and television actor. On the stage he has acted in productions including Woyzeck, directed by Gerardo Vera, or La piel en llamas and Cabaret barroco, both directed by José Luis Arellano. On film, his roles in La suerte dormida (Sleeping Luck) or El laberinto del fauno (Pan's Labyrinth) stand out, while on television his notable work includes Tierra de lobos, Hospital Central and El comisario.