Back to top
Victoria, the new official sponsor of the Málaga Film Festival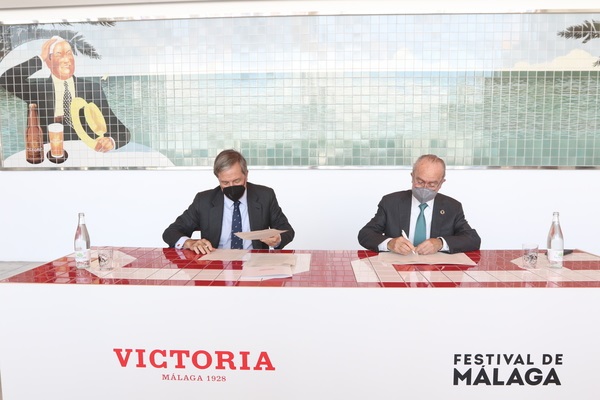 The brand will be the official sponsor and beer of the film festival up until 2025
Cervezas Victoria and the Málaga Film Festival have announced the sponsorship agreement between the brand and the Spanish film festival up until 2025. The agreement became official at the ceremony celebrated at Victoria's brewery and attended by Francisco de la Torre, mayor of Málaga; Jorge Villavecchia, CEO of Damm; Demetrio Carceller Arce, Damm executive president; Noelia Losada, Málaga city councilor for Culture and Sports; and Juan Antonio Vigar, Malaga Film Festival director.

Through this agreement, Victoria has become the official sponsor of the Málaga Film Festival in order to follow its commitment towards the promotion of cultural events in Málaga. Therefore, the Málaga-based company will be the official beer of the event, and will also sponsor the Summer Film initiative, which consists of free outdoors film sessions during the summer in several districts of the city. Besides, Victoria will actively participate in different activities created to celebrate the festival's 25th anniversary in 2022.

During the signing of the agreement, both parties highlighted the importance of this alliance between Victoria, highly committed to promoting cultural and social events in the city, and the Málaga Film Festival, one of the most renowned cultural events of the country that reinforces its international dimension year after year.

This year's edition will take place on 4 and 13 June and the organization will adopt the necessary measures to adapt the festival to the current health situation, as they already did last year. The 23th edition was celebrated in August 2020 and its program included 152 films divided in 262 sessions. It was attended by almost 65,000 spectators and people who participated in different activities, always respecting the existing health regulations. The Culture Observatory ranked that edition of the Málaga Film Festival, designated by them as a "cultural flagship 2020", as the most important event in Andalusia and the eleventh most important event in the whole country.