Back to top
Alfil Logistics and Estrella de Levante inaugurate their new Logistical Centre in Murcia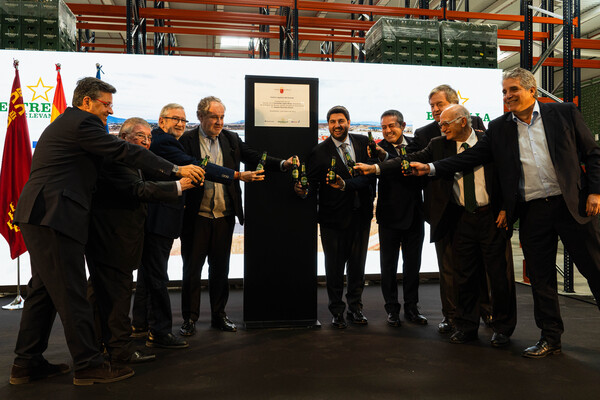 It has a surface area of over 78,000m2 and over a period of five years will create more than 100 jobs
Alfil Logistics and Estrella de Levante have inaugurated the South East Logistical Centre, a new piece of infrastructure located in the San Andrés Polygon in Alcantarilla (Murcia), which integrates two vessels of 48,000m2 and over 30,000m2 of surface area, through which more than 40,000 trucks will pass every year, with a capacity for more than 70,000 pallets.

The launch of this South East Logistical Centre (CLS in Spanish) has allowed Alfil Logistics to centralize its operations in the region of Murcia, and Estrella de Levante to achieve its highest level of productivity thanks to the 42 docks and automated loading and unloading systems (SCA in Spanish), that make it possible to carry out an average of 180 daily operations, to reach a total of 50,000 operations per year.
The new logistical centre built by multinational company Panattoni, boasts an investment of 35 million euros, and is managed entirely by Alfil Logistics. In five years, the new complex will create over 100 jobs, both directly and indirectly, boasting a holding area managed by company Astrapace, hiring 20 persons with different sets of skills.

Likewise, the new complex enjoys Breeam certification, a global sustainability seal that guarantees the sustainable construction of the complex. This recognition validates the water and energy consumption reduction measures that were implemented during the construction of the centre, for example, the integration of natural and artificial lighting by incorporating smart lights with motion sensors. This strategy allows for a reduction in carbon footprint equal to 80 tons of CO2 per year.

The CEO of Estrella de Levante, Pedro Marín, has made assurances that "the new logistical centre will allow Estrella de Levante to achieve its greatest production capacity, and to improve its customer service capacity". Marín also highlights the fact that" the centre brings together the latest available technology to achieve the best safety standards with respect to the environment". The CEO has stated that "the construction has been an example of teamwork with management".

"The launch of the new South East Logistical Centre demonstrates our firm commitment to the region of Murcia, and its consolidation as a key area in the expansion of the company", said Jaume Bonavia, CEO of Alfil Logistics. To which he added, "we have continued to grow over the last 20 years thanks to the opportunities we've had in this area. The complex we launch on this day is our way of contributing directly to the development of the area, always ensuring to maintain our environmental impact to minimum levels.

The president of the region of Murcia, Fernando López Miras, presided over the event, which enjoyed the presence of various institutional representatives such as the President of the Regional Assembly, Alberto Castillo, and the mayors of Murcia and Alcantarilla, José Antonio Serrano and Joaquín Buendía, in addition to representatives from social institutional, companies, and the media.