Back to top
Luis Tosar and Luis Zahera, in search of the perfect poured beer in the new Voll-Damm campaign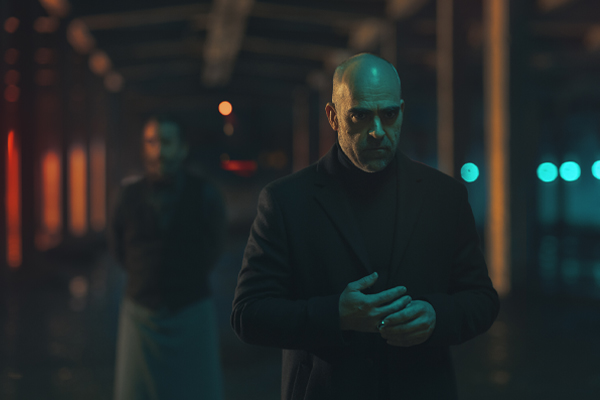 Directed by Alberto Rodriguez, "Los 5 Pasos" is the new instalment of the "Doble o Nada" saga

Luis Tosar and Luis Zahera once again work under the direction of filmmaker Aberto Rodríguez in "Los 5 Pasos" ("The 5 Steps"), the new Voll-Damm campaign in which five waiters face a challenge that offers no second chances: learning how to correctly, and with the utmost precision, pour a Voll-Damm beer, so that double malt enthusiasts can enjoy all its many nuances.

The new Märzenbier campaign -and the fourth instalment of the "Doble o Nada" saga, which boasts Artur Busquets as part of its cast- is a high-paced thriller that takes place onboard a solitary industrial vessel in a port area from which it is almost impossible to escape. Without a doubt, the ideal setting for the severe character of Tosar, with the invaluable aid from Zahera, to train a team of waiters chosen from among the "worst of the worst" with increasingly demanding training for 200 days, to be able to serve "the best of the best". In other words: the perfect Voll-Damm beer.

The title of the short film alludes to the "ritual of the 5 steps" that Tosar established to achieve excellence when serving a draft beer. These include selecting the appropriate receptacle, the neatness and proper temperature of the glass, disposing of the initial foam, the 45-degree inclination of the glass when pouring the beer, and the final opening of the tap to form the perfect head. This careful method, which only the best bartenders are capable of, allows one to better appreciate the quality of the body, the fragrance, and the flavour of a Voll-Damm, because in the end, "not all beers are created equal".

Newly created by Orio Villar, the campaign follows the three previous instalments of the "Doble o Nada" saga, directed by Daniel Monzón (2016), Dani de la Torre (2018) and Alberto Rodríguez (2021) himself.