Back to top
Damm continues to bet on the digitalization of the hospitality industry in HIP 2023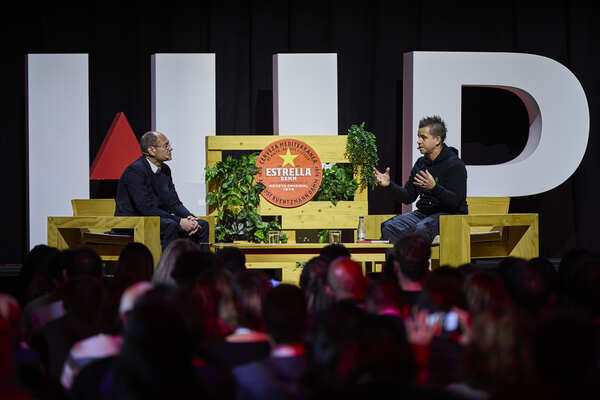 Working closely with Estrella Damm, chef Dabiz Muñoz has participated in an exclusive session in which he has shared how he built the successfully business model "UniverXO" with Jaume Alemany, Damm's Global Chief Marketing Officer.
Once again, Damm has been at HIP Horeca Professional Expo 2023, the innovation in hospitality and catering summit held in IFEMA Madrid, between March 6 and 8. In this edition, attended by over 35.000 hospitality professionals, the company presented the most recent innovations it has developed to promote the digitalization of the HORECA sector.

During the fair, those who visited the Damm stand have been able to learn about the latest updates to Bar Manager, the mobile hospitality digital services app developed by the company.

The company has offered the possibility to carry out tastings of its portfolio at its stand, so that it may showcase the secrets, features, and nuances behind each of its beer to the fair's attendees. To complete its presence at HIP, Damm has made the knowledge of a sommelier, who has provided the guidelines for succeeding behind a bar by pouring the perfect beer.

First appearance by Dabiz Muñoz at HIP alongside Estrella Damm         

Chef and owner of UniverXO, Dabiz Muñoz, has attended the innovation summit for hospitality professionals for the first time, to share the key elements of his successful gastronomic offering, as part of a lecture alongside Jaume Alemany, Global Chief Marketing Officer for Damm. The conversation between Muñoz and Alemany was carried out within the framework of the 40 Hospitality Congress, and has addressed issues such as innovation, creativity, customer experience, or the current business model, among others, in addition to delving into the creation of his world renown brand.  

The session, led by the celebrity chef, in conjunction with Damm, a UniverXO strategic partner, has been one of the most anticipated sessions at the 40 Hospitality Congress, the greatest international forum for HORECA innovation developed within the framework of HIP.