Back to top
Damm calculates and certifies the water footprint of El Prat production plant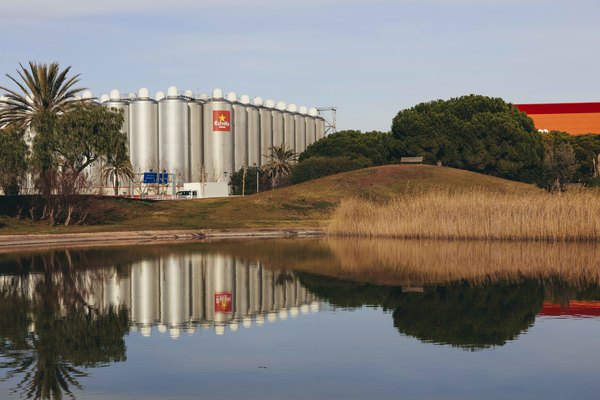 Damm has reduced its water consumption by 37% over the past decade
Damm is absolutely committed to taking care of the environment and reducing the consumption of natural resources throughout its brewing processes. In 2020, the water footprint of its prodution plant located in El Prat de Llobregat (Barcelona) was finally certified after passing an independent verification process carried out by AENOR, the Spanish leading certification entity.

Damm, as an active member of the United Nations Global Compact, is determined to develop processes aligned with the UN Sustainable Development Goals 6 to guarantee its compliance, such us ensuring availability and sustainable management of water and sanitation for all. Therefore, the company keeps working on an ambitious project to promote environmental improvement measures that allow to monitor and reduce water usage throughout all manufacturing processes, and which has already led to a 37% reduction in water consumption across all Damm factories over the past decade.

Damm's constant commitment to accurately calculate the amount of water needed for its brewing processes has become a guarantee of continuous usage reduction. As the company is aware of the importance of consumption optimization of a resource as scarce as water, essential for all of its production activities, it has developed an innovative water footprint reduction project in collaboration with agriculture experts to implement digitalization in the barley fields cultivation processes.

Water consumption in barley fields represents 95% of a brewery's water footprint. Therefore, to achieve water footprint reduction, it is essential to optimize consumption starting with the irrigated lands, as well as to reduce water usage while maintaining the highest quality and efficiency. Once Damm received guidance and started applying new technologies in its fields, it has been able to accurately monitor its water consumption and to recognize the water requirements of the lands in real time. Furthermore, the company has been carrying out counselling programs for the agricultural companies that provide Damm with raw materials to achieve a higher efficiency in water consumption. Currently, there is already a number of farmers participating in these counselling programs aimed to help them reduce water usage in their cultivation processes, which also leads to a reduction of their electricity consumption and, subsequently, of their expenses and environmental impact.

"In Damm, we are well aware of the need to optimize water consumption. That is why we have implemented several research and development programs aimed to reduce water consumption ratio per hectoliter of product. These actions are intended to keep reducing and optimizing Damm's water usage so that we can achieve our water footprint reduction goals set for the next 10 years and keep driving our sustainable growth strategy", says Juan A. López Abadía, Damm energy optimization and environment director.

A strong commitment to reduce water consumption

Damm actions to promote water footprint calculation across all its factories and product units in order to monitor and reduce its environmental impact have been pioneering within the industry. The brewery is part of the Comunitat d'Usuaris del Delta del Llobregat, a community that tries to promote the implementation of new water usage saving and streamlining mechanisms, as well as to protect the groundwater stored in the river aquifer.

As part of its water usage reduction project, the company has installed over 300 water meters at each one of its plants so they can achieve a higher efficiency. What is more, in order to fulfill its commitment to continuously improve its industrial processes, Damm has implemented a circular model and promoted the reduction of raw materials and materials in general.