Back to top
The Damm Padel Club officially starts the 2023 season by awarding scholarships to its players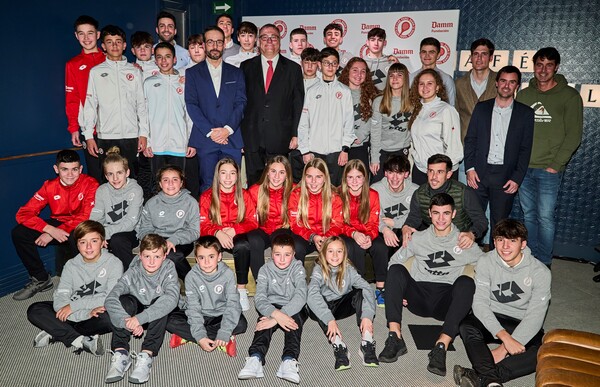 These scholarships cover 100% of sports costs and allow the team to receive high-level training
The Damm Padel Club has awarded its scholarships to players that form part of this year's club team. The event, which was held on January 24 at the Café Comercial in Madrid, was attended by the 31 players, who were accompanied by their families and the Club's coaching staff.

The scholarships awarded by the Damm PC cover 100% of sports costs and allow players to enjoy physical and technical training 4 days per week, in addition to their participation in competitions throughout Spain. High-level training that prioritizes studies, as well as personal and collective development, over results on the courts.

Ramon Agenjo, president of the Damm Padel Club and vice-president of the Damm Foundation, welcomed the attendees and spoke with the members of the Club, in order to convey to them the entity's philosophy, which is based on education, values, and teamwork.

For his part, the Club's sports director, Manu Pascual, shared the key elements for the new year with the team: "We're starting a new season full of hope and excitement, and I am certain that together, we will achieve what we set out to do. We will always be committed to working together, to becoming well rounded individuals and supporting each other's development within the sport."

The event also boasted the presence of Álex Corretja, former professional tennis player, who shared with the team his passion for the sport.

After the scholarships were awarded to the 31 players from the 2023 season, the Club paid homage to Darío Fernández and Dani Santigosa, the two players who last season completed their training at the Damm Padel Club, and who this year begin a new phase of their careers.