Back to top
Damm partners with MadBlue, the sustainability event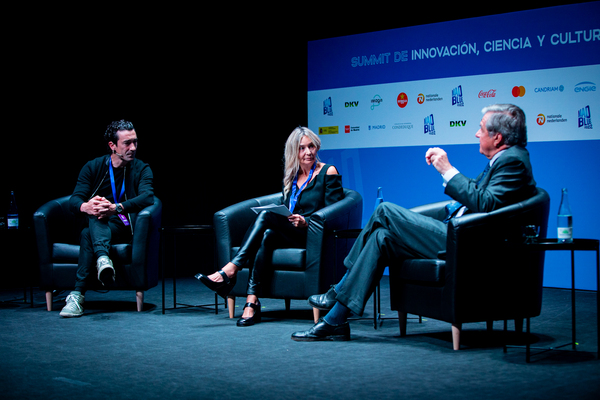 Within the framework of the event, held in Madrid, Jorge Villavecchia has participated in several round tables
Damm is present at MadBlue 2022 an event whose purpose is to boost regional economies through sustainable development. The secod edition of this initiative, which is held from the 22 of April to the 1 of May in Madrid, brings together several companies, start ups, artists, and other professionals, in order to launch new forms of circular economy and investment in new technology.

Jorge Villavecchia, CEO of Damm, has participated in the MadBlue Talks, a space that stands out within the event, where representatives from the business, institutional, artistic, and acadmeic worlds, have spoken about the transition towards a more sustainable world.

At the round table titled "Innovation, circularity and proximity", led by Estrella Damm, Jorge Villavecchia and Eneko Atxa, five Michelin star chef, have spoken about how these three aspects are applied in their respective businesses. In this debate, led by journalist Julia Higueras, the CEO of Damm has explained that "circularity is the foundation of our manner of working and producing, and it is present throughout our value chain. In this sense, he has used the fact that "100% of our packaging is recyclable and 65% of our beer containers are reusable."

Furthermore, at Damm "we reintroduce 97% of derivatives generated at the production plant into the value chain, as well as 100% of the resulting husk from the barley malt and rice cooking process during the beer brewing process. Along with Carlos González, CEO of National Nederlanden, and Benjamí Puigdevall, CEO of Imagine Caixabank, Villavecchia has also participated in the "Smart Cities and responsible companies" round table, which has dealt with best practices for sustainable development.

Villavecchia has indicated that the digital transformation of companies is a key element in order to achieve sustainable development objectives (SDO). "In the case of Damm, the pillars of digitalization have been the transformation of our client relationship model, the evolution of an organizational culture towards a digital one, and innovation as a lever for growth and business development. This change has contributed to achieving the most relevant SDOs for Damm, particularly number 12: to guarantee sustainable consumption and production modalities."

Estrella Damm, sponsor of MadBlue 2022

Estrella Damm sponsors MadBlue 2022 and is the official beer and gastronomic partner of the event. The brand is present in the schedule of activities that are held in the Tierno Galván park on the 30 of April and the 1 of May, like cooking shows and talks on sustainable food, which will include the presence of some of the most reputable chefs of the moment, such as Roberto Ruíz, chef of Pacífico MX, Iván Morales and Álvaro Castellanos, from Grupo Arzábal, Rafa Zafra, chef of Estimar and Casa Jondal, and Fernando Villasclaras, chef of El Lago, and Javier Brichetto, from Piantao.

The brand has also aided in the creation of "Gastro & Eco Market", a sustainable market that includes small local, artisanal producers, where one can enjoy a varied culinary offering that boasts proximity, ecological and seasonal products. Likewise, throughout this second edition, there is an area within the Tierno Galván park where musical performances and sports activities, such as the "Run for Earth" race will take place.