Back to top
Estrella Damm and CE Sabadell FC renew sponsorship agreement until 2023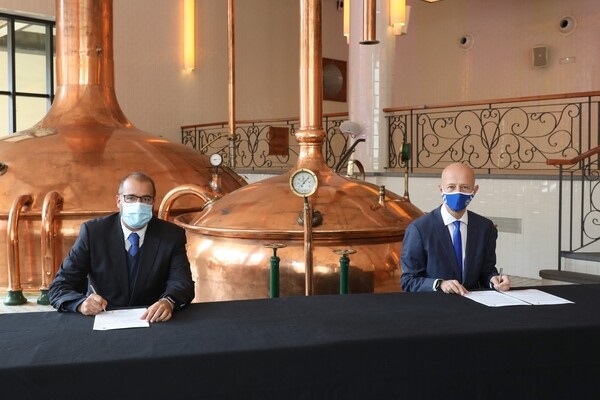 The brand confirms it will be the club's Official Sponsor for the next three seasons
Estrella Damm and Centre d'Esports Sabadell FC signed the agreement that renews the brand's sponsorship of the club until 2023 at an official ceremony at the Old Estrella Damm Brewery in Barcelona. Attending the ceremony from Centre d'Esports Sabadell FC were the club chairman, Esteve Calzada, general manager Bruno Batlle, and the first team goalkeeper, Ian Mackay; from Damm, Jofre Riera, the company's sponsorship director and hospitality industry sales director, Albert Cunill.

The new agreement extends the beer brand's relationship with the club - Estrella Damm becomes the Official Sponsor of Centre d'Esports Sabadell FC. The brand will be highly visible at the Nova Creu Alta stadium and will continue to be the official beer. Together the club and the brand will continue to build a closer relationship with the harlequin club's supporters.

Esteve Calzada, chairman of CE Sabadell FC, commented during the signing, "We are very happy to strengthen the link between these two organisations, both with over a hundred years' history and with the team in LaLiga Smartbank. We are sure that together we will continue to be successful."

Jofre Riera, sponsorship director at Damm, emphasised that "this agreement represents a new stage in the link that unites both institutions. We look forward to the future and to continuing to work together and celebrating lots of success for the club and its supporters."

Also during the ceremony, Esteve Calzada presented this season's official shirt, with Estrella Damm on the back, to mark the renewal of the sponsorship agreement.

Ian Mackay receives the Estrella Damm Star Player award

Jofre Riera presented the Estrella Damm Star Player trophy for the 2019 - 2020 season to the harlequin club's goalkeeper, Ian Mackay. This award from the fans celebrates a historic season, with CE Sabadell FC returning to professional football after a brilliant play-off.