Back to top
Estrella Damm opens the doors of its Old Brewery with guided tours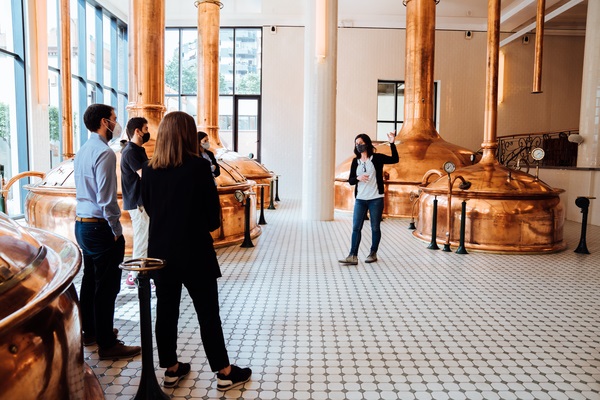 The company launches a new guided tour service, allowing visitors to discover one of its greatest assets: the company's historical archive
The Estrella Damm Old Brewery is launching a new guided tour service, through which beer lovers will discover the history of the emblematic building on Carrer Rosselló in Barcelona, as well as the company's historical archive, and end with a tasting of Damm beers.

Within the walls of the monumental building at number 515 of Carrer Rosselló in Barcelona, beer was brewed for more than 85 years. Its history began in 1905 with the inauguration of the brewery known as "La Bohemia"; a brewery that was ahead of its time and a technological benchmark at the European level. Over the years, the company grew and moved its production to Santa Coloma de Gramenet and El Prat de Llobregat - the latter from where its products are now manufactured and distributed all over the world - and the Old Brewery became the sole headquarters of the company.

The journey through the history of the Old Brewery begins at the main entrance, which is accessed through an impressive gate designed by Javier Mariscal. The first stop is the Damm Historical Archive, one of the most important private collections in Catalonia, with more than 147,000 classified and digitised items, including objects, photographs and hundreds of films spanning more than 6,100 hours. These objects are essential, not only to narrate the 145 years of the company, but also to become a thread that runs through the memory of an entire country.

The visit to the old industrial site continues through the different areas of the building where the beer used to be brewed, now converted into halls for cultural, sporting and gastronomic events with which the company collaborates, and which have turned the Estrella Damm Old Brewery into a key point in the social and cultural life of the city of Barcelona. The name of all these rooms refers to the use they had during the brewing process. On the first floor were the warehouses where the raw materials were stored, on the ground floor were the scales for weighing them - currently the Sala de Básculas (Scales Room), from where there is access to a beautiful open-air terrace - and, at street level, we find the original boilers in which the beer was boiled - currently the Sala de Brasaje (Boiling Room) - as well as the Sala de Máquinas (Machine Room), from where energy was supplied to the entire factory.

The end of the visit is accompanied by a guided tasting of Damm beers, during which you learn how to taste beer, the main differences between styles and how to appreciate the organoleptic characteristics of each one.

The visit to the Estrella Damm Old Brewery can be booked through the website visitas.estrelladamm.com/en. This tour is in addition to the guided tour that the company has been offering for years at the Estrella Damm production plant in El Prat de Llobregat, where visitors can discover the brewing process of the leading Mediterranean beer.