Back to top
Estrella de Levante Brewery receives AENOR's 'Zero Waste' certificate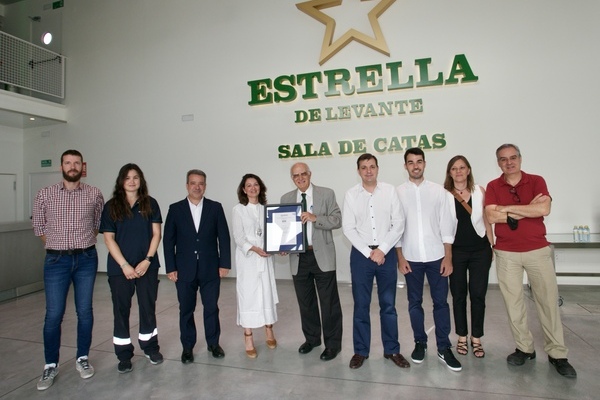 The certification recognises Estrella de Levante's work in the recovery of 98% of the waste generated in the production of its beers
Estrella de Levante has obtained the 'Zero Waste' certification awarded by AENOR. This certificate accredits the work of organisations that recover more than 90% of their waste, thus avoiding landfill. In the case of Estrella de Levante, it has achieved a recovery rate of more than 98% of the waste generated during production.

"This certification recognises our commitment to sustainability and the circular economy. One of the pillars of our sustainability strategy is the reuse of the resources we use in all our areas, from production to distribution", explains Juan Antonio López Abadia, Estrella de Levante's technical director.

In this way, the Murcian brewery has been working towards circularity since the beginning of its activity, carrying out different projects and lines of research for the reuse of the different by-products resulting from the brewing process. An example of this is the reuse of bagasse - the husk remains of malt grain - which is used for animal feed due to its high protein value. In addition, Estrella de Levante also reuses the CO2 resulting from the fermentation processes to generate energy, which is used in other production processes.

Estrella de Levante, to reduce its environmental impact, installed in 2019 a photovoltaic plant at its Espinardo factory, capable of generating energy equivalent to 1,500 homes in a year.

Another eco-efficiency project carried out by Estrella de Levante is the launch of the 'Second life' project, thanks to which the terraces removed from catering establishments are reconditioned to be reused, thus reducing the number of materials and purchases made by the Murcian brewery.