Back to top
Cervezas Victoria launches a campaign in support of the women's national soccer team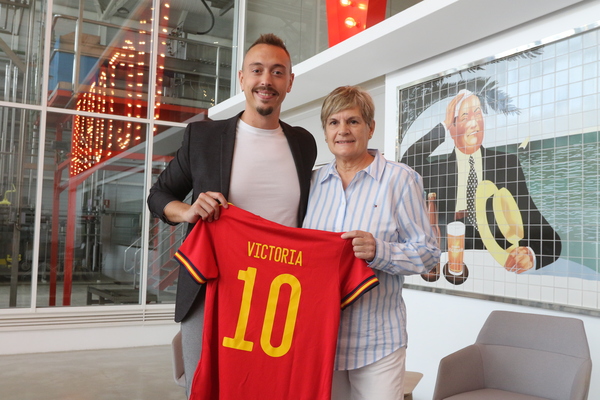 With the spot "Victoria a Victoria", starring Victoria Hernández, a pioneer of national women's soccer, the Malaga brand encourages the Spanish team in its next continental journey
Cervezas Victoria, official sponsor of La Roja, reinforces its support for the Spanish national team in its next continental journey, which starts next July 6. To this end, it has launched the "Victoria a Victoria" campaign, starring Victoria Hernández, a pioneer of national women's soccer as the first player to sign a contract in Spain, in 1971, with the Madrid club Olímpico de Villaverde.
The spot was presented at the Cervezas Victoria Brewery in an event presented by Antonio Rengel, president of the Sports Journalists Association of Malaga, during which the important achievements of the players in recent years were reviewed. The event was attended, among others, by Victoria Hernández and José Villalobos, Brand Manager of the Malaga brand, who stressed that "with this campaign we want to give our full support to the team and thank Victoria Hernández for joining us today at such a special moment for the brand". To thank her for her dedication and commitment, she has been presented with the jersey with the number 10 on the back, the number with which she herself made history.
Almost 50 years have passed since Victoria's sponsorship of Victoria Hernández, but the essence of support for women's soccer remains. For the upcoming matches of the national team, Cervezas Victoria proposes a toast among women who every day build the sport in Spain. The reality of women's soccer today is due to people like Victoria Hernandez, who have paved the way for the players of today and tomorrow.
The spot also features some of the current national team players such as Aitana Bonmatí, Esther González, Misa Rodríguez, Laia Aleixandri and Sheila García, in addition to professionals such as Silvia Pelayo, Elena Jiménez or the referee Eva Alcaide from Malaga, belonging to the Andalusian Football Federation. It will be published in both conventional and digital media during the month of July.
With this campaign, Cervezas Victoria reaffirms its commitment to the development and value of women's soccer in Spain.