Back to top
The Estrella de Levante Foundation earmarks half of its budget to the Mar Menor and environmental actions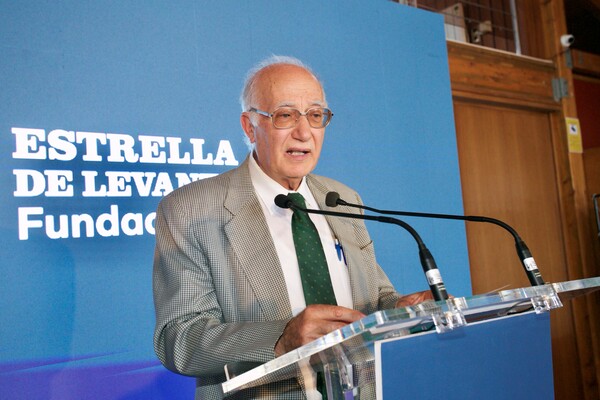 The entity celebrates its first year, during which it has promoted numerous actions in the areas of Environment, Culture and Traditions, Gastronomy and Social Action
The Estrella de Levante Foundation celebrated its first anniversary with an event in which Pedro Marín, president of the Foundation, reviewed the agreements and collaborations that the organisation has promoted since May 2021 in its four areas of action.

Pedro Marín highlighted the actions carried out for the Environment, which accounts for half of the organisation's action budget. "We are happy with the results of the first actions, which fulfil the objective we set ourselves to materialise, to achieve small victories and to serve as a driving force in society.

The president of the Foundation highlighted the projects to clean the seabed in the Mar Menor, "an action that has allowed us to remove almost 25 tonnes of waste from the seabed, thanks to an agreement with the Fishermen's Guild and to having been able to bring all the administrations together to carry out the clean-up, something that fills us with satisfaction".

He also highlighted the project with the UPCT to grow barley in the Mar Menor area. "The results so far are good. We have to continue working, but being able to grow quality barley and at the same time denitrify the subsoil would be an example of how to continue doing things to help the recovery of the Mar Menor".

Marín recalled the agreements and collaborations with ANSE and Columbares, for the protection of the environment, as well as adding can compactors to the coastal areas in Cartagena, Águilas, Mazarrón, Pilar de la Horadada, San Pedro del Pinatar and San Javier, facilities that are maintained by associations that promote social inclusion.

With regard to the area of Culture and Traditions, the president of the Foundation explained that "we have become a protective partner of the Salzillo Museum, in a collaboration that we believe is very important for the city of Murcia". He also wanted to highlight the collaborations with the Cartagena Historical Novel Week and the agreements with town councils such as Murcia, Lorca, Caravaca, Cieza, Archena, Mula and Santomera to preserve important festivals and traditions such as the Murcia Three Cultures Festival, the Mula Drums and the Caballos del Vino (Wine Horses).

For Gastronomy, he highlighted the publication of Ibn Razim's recipe book, sponsored by the Murcia Gourmet Club, which collaborated with the Foundation, and the collaboration project with the Cáritas Catering School in Murcia, which will generate jobs and has had a very important trajectory in the sector for years.

In the area of Social Action, the agreement with the Football Federation of the Region of Murcia to set up the Super League 8 for people with disabilities stands out, an action that Marín defined as "something very special that we have achieved, a competition from which we all have a lot to learn".