Back to top
Keler launches a special edition with Real Sociedad to celebrate the start of an exciting season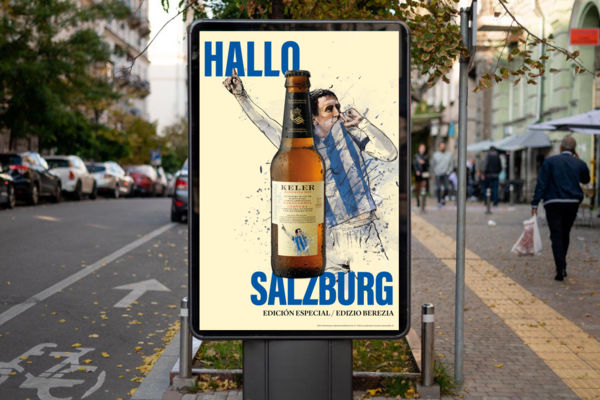 Donostia's beer launches an exclsuive five-bottle series starring Kubo, Le Normand, Merino, Oyarzabal and Zubimendi, with which it seeks to share its passion for the txuri-urdin club with the fans
Keler, Donostia's beer since 1872, and Real Sociedad have launched a special edition of 33cl bottles for bars and restaurants. As an official sponsor of the txuri-urdin club, the brand has sought to share the start of this exciting season, in which Real Sociedad will play in the finest league in Europe, with all its followers.

Keler has prepared an exclusive five-bottle series that will boast five unique illustrations of the five most charismatic players of Real Sociedad: Take Kubo, Robin Le Normand, Mikel Merino, Mikel Oyarzabal and Martin Zubimendi. A special design with which it looks to convey its passion for Real Sociedad and share it with all the fans.

From today, and during the entire month of October, fans of Keler and Real Sociedad will be able to enjoy the new Keler bottles in bars and restaurants throughout the province of Gipuzkoa. To accompany the special edition, Keler has also launched an advertising campaign in over 200 Donostia awnings, as well as a digital campaign on social media.

The close collaboration between Keler and Real Sociedad is a further example of the bond between the beer from Donostia and the sport, and with a club with one of the longest traditions in the world of football, that, just like Keler, has been part of Basque culture for over a century. Together, they have shared historic moments, such as the celebration of the Club's centennial, and have supported players and fans with actions and campaigns that are already part of fans' memories. Without going into further detail, ever since the 21/22 season, Keler recognizes those players that are most valued by the txuri-urdin fans with the title of "Keler player of the season"; a recognition granted thanks to fan votes and with which Robin Le Normand has been acknowledge as Keler player of the season 21/22, and Take Kubo as Keler player of the season 22/23. Furthermore, and since 2021, the Reale Arena boasts Keler Espazioa, a gastronomic and entertainment venue that has become a meeting point for the realzale family.