Back to top
Demetrio Carceller Arce. "In a company with history, its traditional values must coexist with the innovative culture of a startup"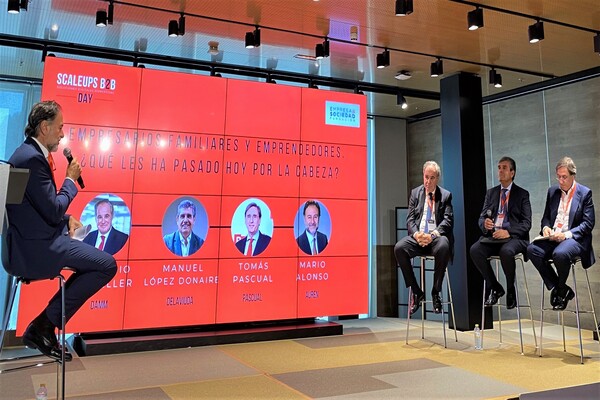 Said the CEO of Damm at the Scaleups B28 Day conference organized by the Empresas & Sociedad Foundation
Demetrio Carceller Arce, CEO of Damm, participated in the Scaleups B28 Day conference organized by the Empresas & Sociedad Foundation. The event, which took place on October 3 at the auditorium of Microsoft Ibérica headquarters in Pozuelo de Alarcón (Madrid), brought together more than 265 executives and professionals to analyze successful cases of implementation of disruptive solutions in large organizations.

Under the title Family business owners and entrepreneurs. What have you thought of today?, Carceller Arce shared a round table with Manuel López Donaire, President of Delaviuda Confectionery Group, and Tomás Pascual, President of Pascual, moderated by Mario Alonso Ayala, President of Auren, to speak about the challenges involved in transforming family-owned businesses digitally and culturally.

During his intervention, the CEO of Damm highlighted how he had been positively surprised by the application of new tools such as Artificial Intelligence and Data Analytics in the cases presented during the conference. He particularly noted "how these instruments are being applied in the business world to obtain new services and new products that can be sold or to help improve the internal processes of companies."

Likewise, he stated that "any company that does not structure itself internally as a start up is doomed to fail because it will be unable to attract new talent that demands different organizational structures and compensation systems." In light of this situation, he discussed the challenges faced by companies such as Damm, with close to 150 years of history, to adopt this new way of working. He assured the audience that in this case, work is already underway to achieve this goal, as demonstrated by the acquisition of an artificial intelligence start up. He specifically stated that his goal was to "create a new structure at the company, intended to innovate and develop its activities in a new way."

Carceller Arce wanted to make it clear that its not about trying to eliminate the existing organizational structure, but rather, have the values that have defined the company since the beginning coexist with this startup organization, which is flatter and more agile. To that end, he stated that "it is essential to accurately define the selection process of new talent so that these values are identified and provide said talent with adequate mentoring so they may acquire the necessary skills and develop their potential." In this sense, he highlighted that "it is necessary to reward risk-taking within organizations. There is always a new opportunity, there is always a risk to assume, and the key is to do so courageously, with a cool head and a good attitude."