Back to top
The Mutua Madrid Open and Estrella Damm, together until 2027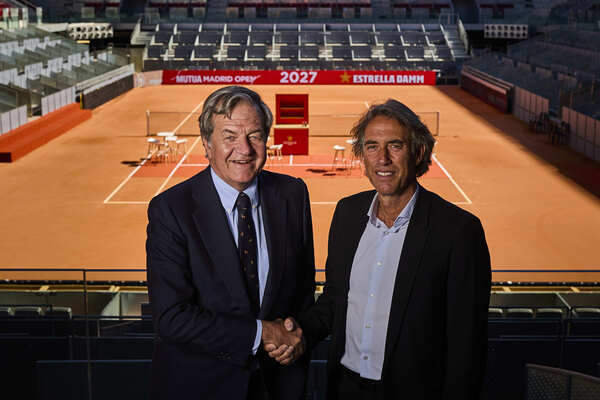 The beer brand renews the sponsorship agreement for the next five editions, thus remaining the tournament's official beer
Estrella Damm and the Mutua Madrid Open have announced the renewal of their sponsorship agreement for the next five editions of the tournament, thus continuing the relationship that brought them together in 2008. The agreement has been ratified in Caja Mágica by Jorge Villavechia, Damm CEO, and Gerard Tsobanian, CEO of the Mutua Madrid Open, during an event also attended by Jofre Riera, Damm Sponsorship Director, and Javier Burgos, Commercial Director of the Mutua Madrid Open. As such, Estrella Damm once again bets on male and female tennis.

By means of this new agreement, Estrella Damm remains the official beer of the Mutua Madrid Open, keeping its brand's presence within the venue arena and courts. Natural mineral water brand Fuente Liviana will continue to be an official collaborator of the competition. As usual, the brand will capitalize on the revitalization of the Estrella Damm lounge, offering attendees the best musical and entertainment options during the tournament. Furthermore, Estella Damm will also be present at the Estrella Damm Expo, which highlights the tradition of national tennis, thus reinforcing its bond with the history of this sport.

This edition of the Mutua Madrid Open will be held from April 24 to May 7, bringing together the best players in the world. This year, as has been the case with the WTA 1000 tournament for a few years now, the Mutua Madrid Open will become a two-week ATP Masters 1000 tournament, thus strengthening the spirit of growth that has marked every step in the tournament's history, going back to its arrival in Madrid in 2002. The main ATP bracket at the Mutua Madrid Open will expand (from 56 to 96 players) and its duration will increase from 8 days to 12 days. Additionally, the WTA tournament will also increase its bracket, going from 64 to 96 female players, and will be held at the same time as the male competition, thus guaranteeing the spectacle by offering fans ample options for staying at the Caja Mágica.