Back to top
Pack2Earth will develop a compostable cup for a pilot test at the 2023 Cruïlla festival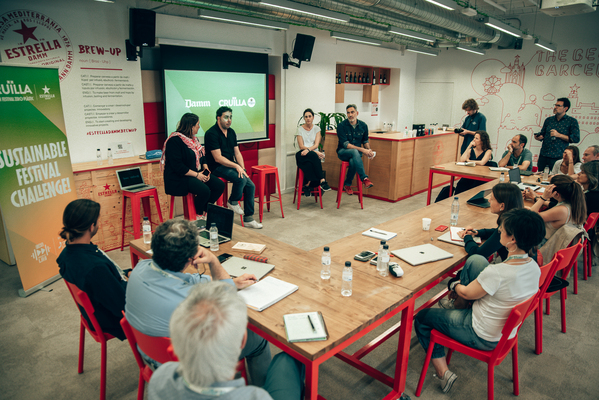 This initiative is part of the Sustainable Festival Challenge program spearheaded by Cruïlla along with Damm, Barcelona Music Lab, and the Ship2B Foundation, with the aim of becoming the most sustainable festival in the country
A 100% compostable cup is the initiative chosen for a pilot test during the next edition of the Cruïlla Festival in 2023. The idea stems from the Sustainable Festival Challenge, led by Cruïlla, along with Damm, Barcelona Music Lab, and the Ship2B Foundation. The Pack2Earth startup will work on the prototype for this cup, which will be designed from organic materials and, should it pass the real-world test, will be used at the festival in 2024.

Finding a proposal that minimizes the impact from cups at the festival has been a priority challenge for Cruïlla for years. The possible solutions offered by Pack2Earth could be the watershed moment that gets us closer to our end goal: transforming the Festival into a highly sustainable event." said Jordi Herreruela, Cruïlla CEO. For her part, Laura Gil, Director of Digital Transformation for Damm says: "Should we be able to develop a cup that, in addition to being 100% biodegradable, can maintain the quality and organoleptic properties of beverages, we would have achieved a suitable, innovative solution for all types of events and applications."

Pack2Earth CEO and co-founder, Françoise de Valera, says: "This is a huge opportunity for two leading companies in their respective sectors to work together. This will allow us to make it so that the thousands of cups that are consumed at a mass-attendance event can be revalued and become a toxin-free sublayer in which new plants can grow. We are proud of the fact that the Cruïlla Festival and Cervezas Damm, which already work hard on sustainability, will be able to further reduce their environmental footprint with our materials."

On the other hand, within the framework of the Sustainable Festival Challenge, we will be working during the next few months with two other startups, helping them develop their own projects in the areas of sustainable energy and materials. With the selection of Pack2Earth to implement its pilot in the next edition of the festival and support the development of the Full & Fast and Volià proposals, our goal is to directly resolve the 3 challenges presented: the eco-design of a cup that reduces environmental impact, the reduction and offset of emissions, and the development of new materials with a reduced environmental footprint" says Bea Muñoz, Director of Corporate Services for the Ship2B Foundation.