Back to top
Rodilla and the Damm Foundation distribute 4,000 sandwiches every day to the groups most affected by Covid-19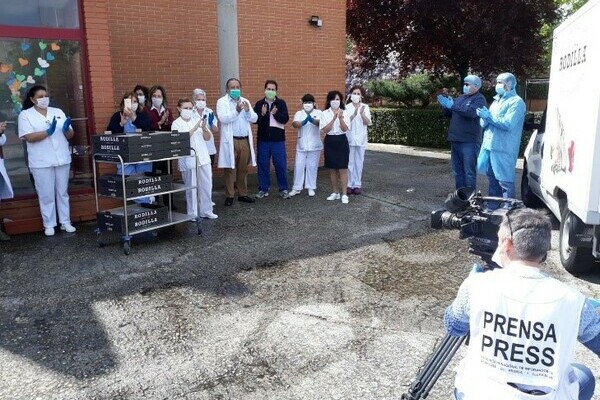 Care homes, health workers, people with additional needs and other groups will receive Rodilla's famous artisan sandwiches daily
As a way of thanking those who are engaged in the daily fight against the Covid-19 pandemic, for the next few weeks the Rodilla restaurant chain, thanks to the support of the Damm Foundation, chaired by Demetrio Carceller Arce, will donate sandwiches to some of the groups that are most feeling the effects of the current circumstances in the Comunidad de Madrid: the elderly, people requiring special attention, health workers, caregivers, and the drivers who help them to get around.

To these drivers, who every day take hundreds of health workers to and from hospitals in Madrid and the hotels where they are staying, Rodilla will provide breakfast of their famous artisan sandwiches and coffee, free of charge, as a way of making the burden a little lighter. Health workers will also be able to enjoy a free Rodilla breakfast.

This initiative is in addition to those already carried out by Rodilla since the start of the state of emergency. Commitment to the community where it has done business for the last 80 years is in the company's DNA, and it has reacted quickly to help and support local people in any way it can during the crisis caused by the pandemic. For example, the company provides school lunches to families in need and handed out 8,000 torrijas (a traditional sweet treat similar to French toast) to more than 40 care homes in Madrid at Easter.

This action also accompanies the donation made by the Damm Foundation of more than 150,000 litres of mineral water to health centres and hospitals throughout Spain, such as the Hospital de La Paz and the temporary hospital which has been set up in IFEMA in Madrid, and the Foundation's collaboration with chefs and restaurants to prepare food in their kitchens and take it directly to workers in hospitals and care homes, as well as soup kitchens across the country, supplying more than 5,000 meals a day.

Everybody can help

As from April 21, we can all collaborate online via the Rodilla website, buying a pack of 20 sandwiches at cost price (€16) and sending it to whoever you wish, as a way of saying thank you or of showing your support to the group or individual of your choice: a hospital, a family member or friend who is in need, a care home, the workers at your local supermarket, etc. The pack will also be available at Uber Eats and Glovo.