Back to top
Victoria presents Bocoy, its new winter beer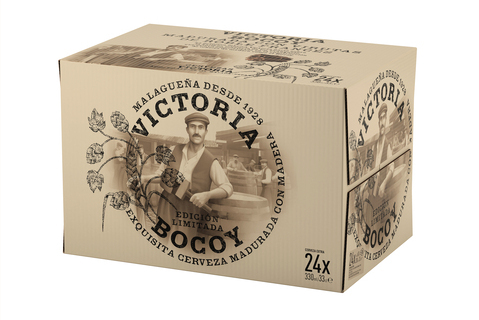 With this launch, the brand once again pays homage to its history, specifically to Eduardo Franquelo's cooperage, father of Cervezas Victoria's founder
Cervezas Victoria presents Victoria Bocoy, a limited-edition beer for the winter season, which pays homage once again to the brand's and the city's history, specifically to Eduardo Franquelo's cooperage, father of Cerveza Victoria's founder, Luis Franquelo. "Bocoy" is a term that comes from the French language, and which refers to the large capacity barrels that are generally destined to be used for storing or transporting wine.

The image illustrated by the label is that of a cooper with typical dress, a black vest and beret. The label's background is a photograph that dates to the late XIX century, and which comes from the archives that depict the Franquelo family's cooperage. In it, one can appreciate the cooperage area and part of the staff, in addition to the barrels that were manufactured there.

Bocoy, a limited-edition beer

Prepared by the Málaga factory master brewers, Victoria Bocoy boasts strong hints of wood and vanilla. When tasting it, Bocoy comes across as an intense beer, with a warm, well rounded first taste. The hints of wood mixed harmoniously with the taste of carmelized malt; and the subtle bitterness provided by the hops, balance the entire blend. The aftertaste is pleasantly complex and lasting.

According to Victoria's master brewer, Eduardo Sall, "Victoria Bocoy is the perfect accompaniment for seasonal dishes, particularly Christmas recipes", and it's recommended that it be consumed at between 7 to 9 º C.

Victoria Bocoy is sold in 33 cl bottles for hospitality and catering. It can currently be served at bars and restaurants, and bought in Maskom supermarkets, and at the Cervezas Victoria Factory in Málaga.

With this launch, Cervezas Victoria now boasts a portfolio of 7 styles: Victoria Clásica, Victoria 0,0, Victoria Pasos Largos, Victoria Marengo, Victoria Malacatí, Victoria Vendeja and Victoria Bocoy.