Back to top
Voll-Damm celebrates its 70 anniversary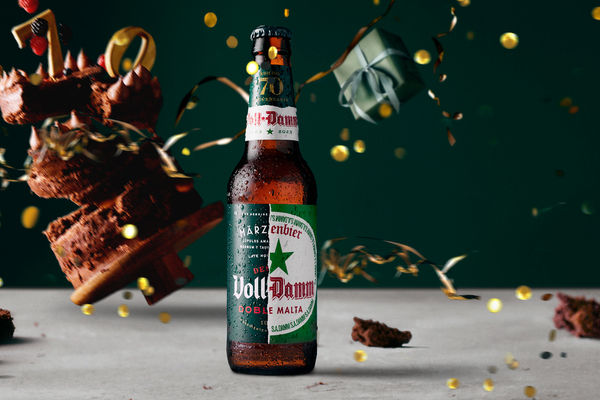 To celebrate the occasion, the brand launched a new limited edition that pays homage to the first bottles that were sold in the 50s
It was 1953 and Damm's master brewers were trying their hand at brewing a Märzenbier style beer for the first time. This was a style that dated back to the Middle Ages, when due to the lack of refrigeration, and the fact that high temperatures affected the proper fermentation of must and yeast, the brewing of beer stopped during the summer months.
It wasn't until the XIX century, when brewers discovered that by adding more hops and malt to the final batch, the one from March, they were able to brew a more full-bodied and heat resistant beer. This made it possible, for the first time, to continue consuming beer throughout the entire year.
But let's go back to 1953 That year, thanks to the legacy left behind by the master brewers of the XIX century, Damm fashioned its own Märzenbier style beer, initially conceived as a seasonal beer that would only be produced between the months of October and April. However, two years later, in 1955, and due to its magnificent success, the company decided to produce it all year long and called it Voll-Damm, which in German means full, complete. Having doubled the amount of malt it was brewed with, this beer went on to also double its strength and flavor.
It's been 70 years since the first Märzenbier from Damme's master brewers was brewed. To celebrate, Voll-Damm has launched a limited edition that pays homage to the brand's first designs: a special label inspired by the first bottles of double malt that were sold in the 50s. The new conmemorative design, which will be applied in all its formats such as packs or cans, among others, is already available at bars, restaurants and supermarkets until the end of the year.
Since then, Voll-Damm has not changed its original recipe, prepared with 100% natural ingredients, only using barley from pure varieties that has been malted in our own malting plant, thus preserving its unmistakable flavor: strong, intense, full-bodied and with a hint of a signature bitterness, all these years. That same flavor is what has led it to win numerous international accolades during its 70-year history; awards such as the eight Gold medals at the World Beer Championship, gold at last year's Brussels Beer Challenge, or gold at the last two editions (2023 and 2023) of the World Beer Challenge, the latter held only a few weeks ago in Estoril (Portugal).
TASTING NOTE
Voll-Damm is an oak-colored beer with hints of orange. Dense and bright with a toasted chromatic layer. The head is compact. It has fine, active and rapid bubbles. The aroma is highly intense and complex. The first scents are fruity, such as ripe peach, apple and a note of orange that adds freshness. The overall aroma is clean with an end note of toasted bread. The first taste is expansive, with character. Voluminous and creamy. The end reminds us of the tannin of tobacco leaves. The bitterness of the hops offers a sensation of intensity and freshness.