Back to top
Girona FC and Estrella Damm, together until 2028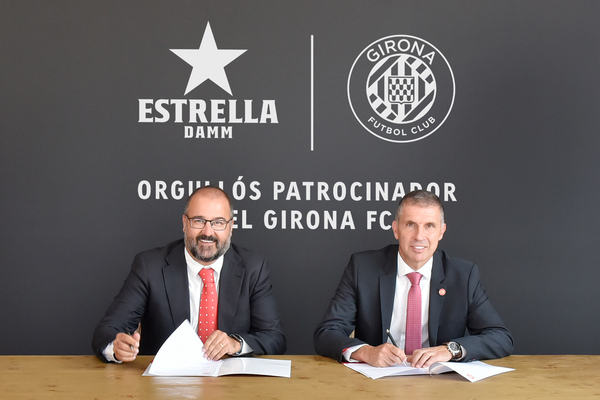 The two entities have renewed their collaboration, carrying on the relationship that brought them together over ten years ago
Girona, September 5, 2023-. Girona Football Club and Estrella Damm have renewed their collaboration agreement for the next five seasons, thus continuing the relationship that brought them together in 2012.

The recently inaugurated Espai 1930 of the Montilivi Stadium hosted the renewal of the agreement between both entities, which was attended by Delfí Geli, President of Girona FC; Nacho Mas-Bagà, CEO and President of the Club's Board of Directors; Jofre Riera, Damm's Sponsorship Director and Rafael Ortuño, Sales Director for Damm in Girona. The event was also attended by Girona FC First Male Team coach, Míchel Sánchez, and first male team players Aleix Garcia and David López.

As a proud sponsor of Girona FC, Estrella Damm will keep its status of Official Beer of Girona FC, as well as its brand presence both in Montilivi and in the La Vinya training centre. Likewise, Estrella Damm will continue to be linked to the Club's gastronomic offering by also being present at the new Espai 1930, located across from the stands, which will offer a gastronomic and leisure experience to fans that have been invited to the Hospitality areas of the Gironan stadium.

Furthermore, both entities will continue acting in unison to promote the brand and the Club to Girona FC fans; for example, with the Award for the Star Player- a recognition awarded by fan vote to the best player after each match- or the Estrellas Match -a contest run on social media that allows Club followers to enjoy a series of exclusive activities at Montilivi-, among others. Over the last decade, historic club moments have been celebrated, such as the two promotions of Girona FC to the First Division, in the city's streets, and campaigns to support the club have also been carried out that are fondly remembered by fans.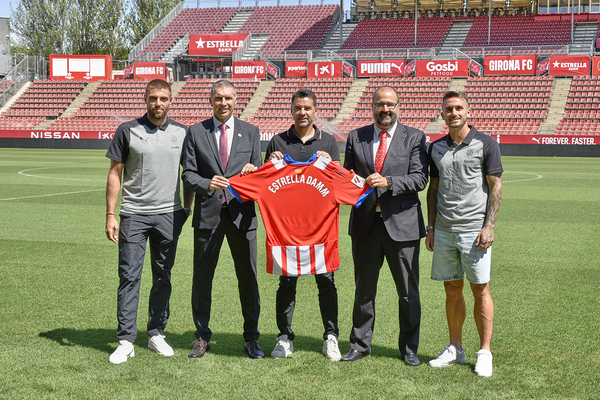 From left to right: David López, Delfí Geli, Míchel Sánchez, Jofre Riera and Aleix Garcia on the pitch at Montilivi Stadium. ©Dani Rovira

Thumbnail photo: from left to right: Jofre Riera, Damm Sponsorship Director, and Delfi Geli, President of Girona FC, during the renewal of the agreement. ©Dani Rovira.