Back to top
Emirates Team New Zealand visit the Estrella Damm Brewery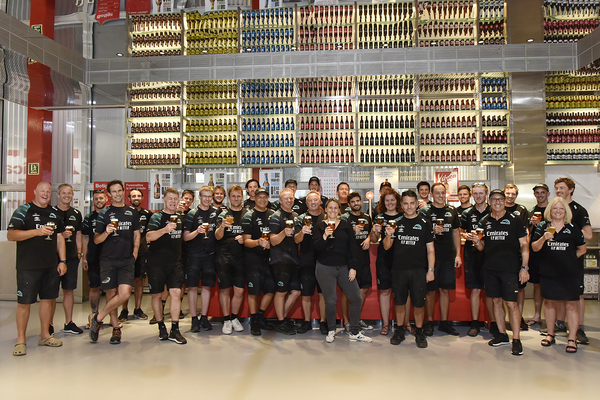 Karen Peiró, a Damm master brewer, explained the secrets of brewing Estrella Damm and how to pull draught beer properly
Less than a week before Vilanova i la Geltrú hosts the official start of the 37th America's Cup, Emirates Team New Zealand visited the Estrella Damm Brewery in El Prat de Llobregat (Barcelona), one of the most modern and sustainable breweries in Europe. Estrella Damm is an official sponsor of the New Zealanders.

The defending America's Cup champions toured the plant's facilities accompanied by Karen Peiró, a Damm master brewer, who explained the secrets of brewing Estrella Damm, which is made with 100% natural ingredients from local farms, following the original recipe from 1876.

At the end of the visit, Peiró gave a demonstration of how to pull draught Estrella Damm properly. It was then the members of the team's turn to get behind the taps and show their skill at pulling a perfect beer, with the correct pressure to get strands of fine bubbles and just the right foamy head.

The relationship between Estrella Damm and Emirates Team New Zealand goes back to the 2007 America's Cup, which was held in Valencia, when the beer of Barcelona sponsored the New Zealand team. Sixteen years later, the Estrella Damm logo will once again decorate the sails of the defending team in a new edition of the America's Cup, which will be take place in Barcelona during the summer and autumn of 2024, in a further demonstration of the brand's commitment to sailing, sport and society.