Back to top
'Act III. Compromiso', winner of the Dircom Awards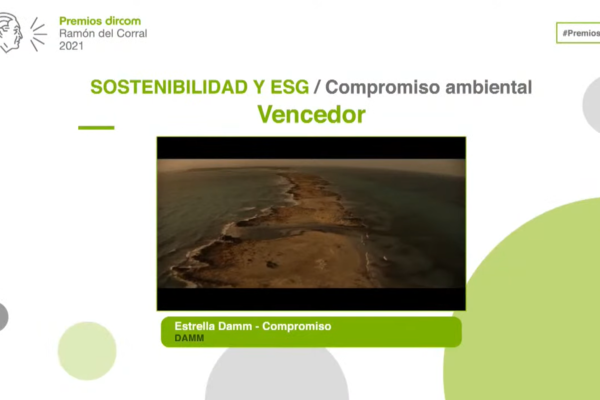 Estrella Damm's campaign has been awarded in the category of 'Environmental Commitment'
On 29 June, Estrella Damm's campaign "Acto III. Compromiso" received an award in the category "Environmental Commitment" at the Dircom Ramón del Corral Awards 2021. They recognise the best examples of Communication and Public Relations in Spain, promoted by the Association of Communication Managers, Dircom. In this fourth annual event, a record number of 213 applications were submitted.

'Acto III. Compromiso' was the continuation of 'Act I. Alma" and "Act II. Amantes", campaigns launched in 2019 to promote sustainability-oriented initiatives, highlighting the environmental issues facing the Mediterranean Sea. Likewise, with "Acto III: Compormiso", the focus remained on raising society's awareness to stop the ecological and climatic emergency in which our planet finds itself and on how small gestures in our daily lives have an influence.

Miguel López-Quesada, president of Dircom, highlighted the value of communication in order to convey the purpose of organisations and transmit values in such a complicated year due to the pandemic. The new categories for sustainability, solidarity and care for people were added.

The Dircom Ramón del Corral Awards 2021 were broadcast via streaming on Dircom's official Youtube channel, in a gala hosted by journalist Carme Chaparro and followed by more than 1,000 people.