Back to top
Pall-Ex Iberia receives the Lean&Green Star after reducing its CO2 emissions by more than 30%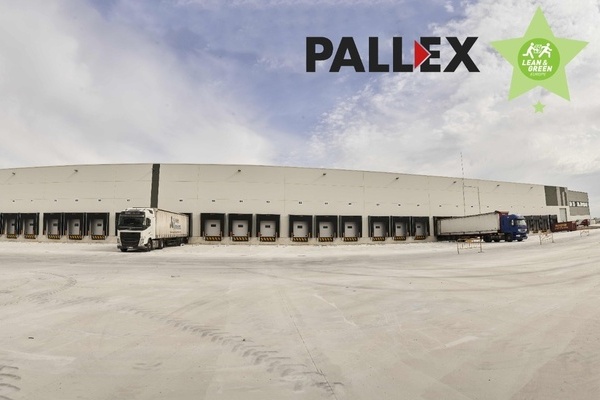 The Lean&Green Star certifies that Pall-Ex Iberia has reduced CO2 emissions from its logistics hub activity by more than 30% between 2018-2020
Pall-Ex Iberia has received the Lean & Green Star awarded by AECOC - Spanish Association of Manufacturers and Distributors - in recognition of reducing more than 30% of its CO2 emissions from the activity in its logistics hubs of Sant Esteve Sesrovires (Barcelona) and San Fernando de Henares (Madrid). A reduction that the company has carried out between 2018 and 2020, thanks a new action plan focused on renewable energies, the elimination of fossil fuels and the implementation of a new A++ energy efficiency hub.

Pall-Ex Iberia's first Lean&Green Star certifies that the action plan that the company presented in March of this year after joining this European-wide initiative has been successfully completed after exceeding the 20% reduction in CO2 emissions that AECOC requires for this recognition to be granted.
"At Pall-Ex Iberia we work to ensure that our activities in the company's logistics hubs are as efficient and sustainable as possible, with actions that respect the environment and that can be maintained over time, such as the use of renewable energies or the commitment to logistics centres with maximum energy efficiency," says Sergi Tomás, managing director of Pall-Ex Iberia.

Strategy for a more sustainable logistics

The action plan presented by Pall-Ex Iberia and carried out between 2018-2020 has made it possible to reduce the CO2 footprint through the use of 100% renewable energy at the hub in Sant Esteve Sesrovires (Barcelona).

Likewise, the latest hub that Pall-Ex Iberia inaugurated in San Fernando de Henares (Madrid), which is over 12,000 m2, has A++ energy certification. This certification of maximum energy efficiency is achieved by implementing environmentally-friendly measures, such as the use of solar panels for self-consumption, LED lighting throughout the facility, skylights to take advantage of natural light, lithium-ion trucks and green energy.

Goal: climate neutrality

Pall-Ex Iberia is committed to a long-term action plan with the objective of achieving climate neutrality (reduction of 100% of greenhouse gas emissions). The company is working to make all emissions from its logistics hubs 0 (Net 0) with offsetting and neutralisation measures such as the use of solar panels or reforestation of forests, in the future, with the aim of absorbing CO2 from the atmosphere.