Back to top
The taste of Estrella Damm receives awards all over the world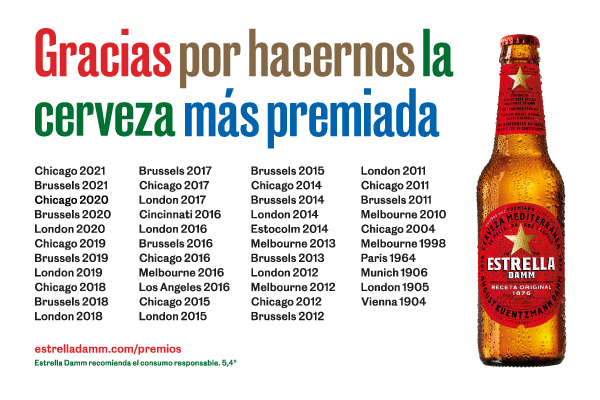 The brand launches a digital campaign highlighting the awards received since 1904
Estrella Damm has launched a digital campaign that highlights the awards obtained since 1904, making it the most awarded national beer for its taste. The campaign will be active on its social networks (Facebook, Twitter and Instagram) and in the digital press in Catalonia and the Balearic Islands until 1 August.

In the campaign, the brand gives thanks for being the national beer that has received the most international awards, from the first one at the Internationale Ausstellung für Spiritusverwertung und Gärungsgewerbe (International Exhibition for Alcohol Utilisation and Fermentation Trade) in Vienna in 1904, via awards in Munich (1906), Paris (1964), Melbourne (1998), Stockholm (2014) and Brussels (2017), to the last medal at the World Beer Championship in Chicago (USA, 2021), among many others.

Estrella Damm's recipe dates back to 1876, and is the result of a combination of malt, barley, rice and hop without any additives or preservatives. It is because of its flavour, which shows a great balance between cereal character and bitterness, that it has repeatedly won these awards, both nationally and internationally.