Back to top
Cervezas Victoria introduces "Vendeja", its new IPA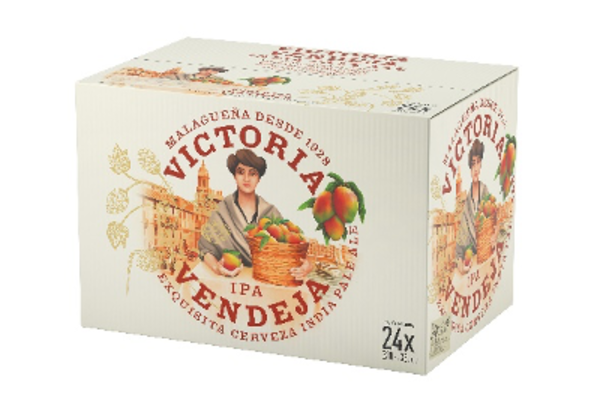 With this new launch, Cervezas Victoria once again pays homage to the history of Málaga, specifically to female farmers (faeneras), also known as 'vendejas'
Cervezas Victoria introduces its new India Pale Ale, Victoria Vendeja, which pays homage to female farmers or 'vendejas', one of the most popular professions of the XIX century, when the city boasted one of the most important trading ports in the country. The term 'vendeja' refers to the period of time between the harvest and the preparation of the crop for export from the Port of Málaga, a task that was carried out by the 'faeneras' or 'vendejas'.

As a reminder of that time, Vendeja street is found in the heart of Málaga's Soho. Along this street, and its immediate surroundings, one could find most of the shops where the "faeneras" prepared these products, which for the most part came from the province of Axarquía. In recognition of this popular figure, the Victoria Vendeja label features an illustration of a 'faenera' wearing the traditional black shawl, wearing her hair up, carrying a basket of mangos in a setting where the port or Cathedral of La Encarnación can be appreciated.

Victoria Vendeja has been prepared in Málaga by the master brewers of the Cervezas Victoria Brewery. This India Pale Ale is characterized by its sharp aromas of mango and citrus fruits, which are so popular in Axarquía and the Valley of Guadalhorce. It's a medium-bodied beer with a semi-murky appearance and moderate bitterness. According to master brewer Eduardo Sall, "Victoria Vendeja is an IPA that fits perfectly with our land, its climate, and its palate", that is why we recommend it be savored at a temperature between 5 and 7º C. It's the perfect accompaniment for grilled meat, a Malagueñan goat or lamb hamburger with mango chutney.

Cervezas Victoria has been betting on the development of new styles of beer ever since the inauguration of its brewery in 2017, which has allowed it to develop its portfolio of 6 styles: Victoria Clásica, Victoria 0,0, Victoria Pasos Largos, Victoria Marengo, Victoria Malacatí and, the new addition, Victoria Vendeja.