Back to top
Damm Foundation, new patron of the Oboe Chair of the Escuela Superior de Música Reina Sofía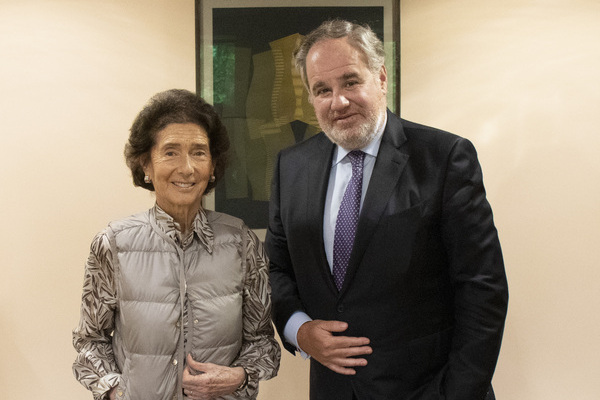 The signing of this agreement is the result of the commitment of both entities to promote talent and cultural education
The Damm Foundation, in its commitment to make visible and support the culture of our country, has signed today a collaboration agreement with the Albéniz Foundation by which it becomes patron of the Oboe Chair. The event was attended by Paloma O'Shea, founding president of the Escuela Superior de Música Reina Sofía, and Demetrio Carceller Arce, president of the Damm Foundation.

The Damm Foundation, under its premise of working and helping to build a better society, sees this agreement as an opportunity to promote musical education and knowledge of young musicians in society. It thereby supports the daily needs in their studies and the organisation of artistic activities such as concerts throughout Spain of young musicians who make up the "Damm Foundation Oboe Chair".

The signing of this agreement underlines the commitment of Damm and its Foundation to the shared values of effort, excellence and belief in people's talent, as well as their desire to develop the arts, music and culture in Spain.

"The Oboe Chair has a special significance for the Damm Foundation, because it allows us to continue promoting the values of excellence and cohesion among young people through the learning of an instrument with a venerable history. Music is humanity's universal language and, in all cultures, it plays a very important role in the education and care of people, as well as in social coexistence, which is the raison d'être of the Damm Foundation", emphasised Demetrio Carceller Arce.

For the Escuela Superior de Música Reina Sofía, an international reference centre for the teaching of young musicians, which each year has 150 students of more than 30 nationalities, adding this new patron represents significant support to continue fulfilling its two founding objectives: supporting the most talented young people in their personal and artistic development and bringing music closer to society.

"Everything we do at the Escuela Reina Sofía is based on the conviction that music has a great power to transform people and societies. The sponsorship we start today will allow us to advance along this path, supporting the Oboe Chair in its needs and facilitating the presence of great international oboist masters in the Master Classes programme that we promote at the school as a complement and reinforcement of the regular studies", said Paloma O'Shea.