Back to top
Estrella Damm and the CRAM Foundation organise a massive clean-up on Prat de Llobregat beach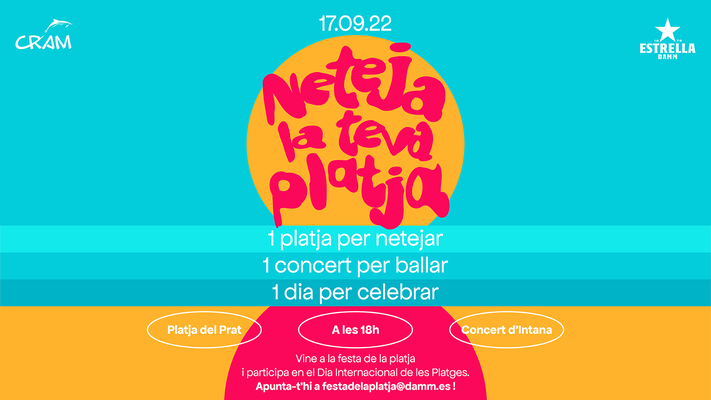 A committed and festive day open to all, which will take place on the afternoon of Saturday 17 September, culminating in a musical performance by Intana
Next Saturday 17 September, coinciding with International Beaches Day, Estrella Damm and the CRAM Foundation are organising a beach clean-up in El Prat de Llobregat, as part of the environmental campaign "1m2 for beaches and seas" promoted by the Libera Project 2017.

Under the name 'La festa de la platja', Estrella Damm and the CRAM Foundation have organised a committed and festive day, to raise public awareness of the ecological emergency to which the Mediterranean is exposed and the urgent need to protect our seas and everything that surrounds them.

The initiative - which will involve the participation of Damm volunteers and will be led by CRAM technicians - is open to anyone who wants to contribute to ridding Playa del Prat of waste, as well as learning first-hand about the work carried out by the Marine Animal Recovery Centre, an organisation that assists and recovers endangered marine species to reintroduce them into their habitat.

The day will start at 6pm and will end with a live performance by Intana for all volunteers at the beach bar El Calamar.

Anyone wishing to take part in the 'Festa de la platja' can register by sending an email to festadelaplatja@damm.es. Limited places so apply now!