Back to top
Estrella Damm, Copa del Rey Mapfre champions, 20 years on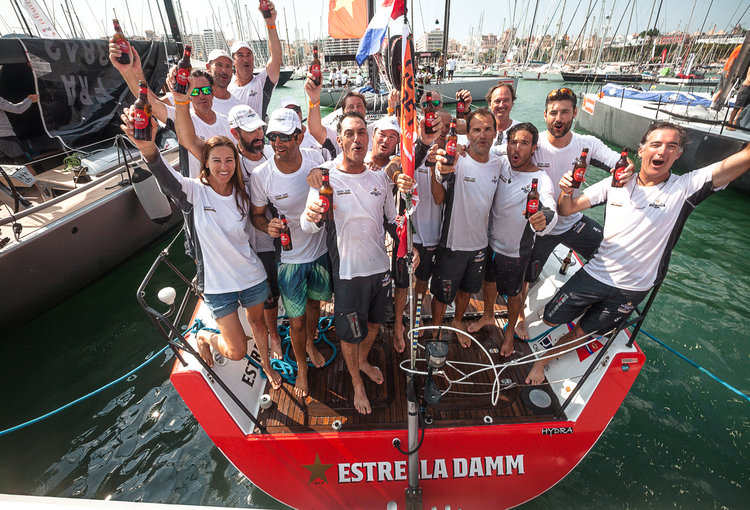 The yacht wins the BMW ORC 1 class and is the best of all time
The Estrella Damm Sailing Team 2018 has won the 37th Copa del Rey Mapfre in the BMW ORC 1 class and also the special prize as the best team in corrected time.

Twenty years after becoming overall champion of the Copa del Rey, the RCMT Punta Umbría and Club Nàutic El Balís boat is back on the top tier of the podium. And with part of the crew that achieved that success two decades ago: the brothers Nacho, Arturo and Paco Montes and their cousins Nacho Morube and Nacho Lamadrid.

If 20 years ago the main rival was the Italian yacht Breeze, in 2018 the principal challenge came from Rats on Fire, another strong opponent, who arrived at the 37th Copa Del Rey Mapfre as current champions and five times previous winners. Estrella Damm started the last day with a four-point advantage on Rats on Fire, but they couldn't be complacent and the crew, led by Luis Martínez Doreste from the Canary Islands, sailed out to the regatta arena knowing that a victory in the last day's racing would guarantee the title. And that is how it turned out.

The crew of the Estrella Damm Sailing Team 2018 DK46 in the 37th Copa Del Rey Mapfre was Nacho, Arturo and Paco Montes, Luis Martínez Doreste, Oscar Chaves, José María 'Pichu' Torcida, Gonzalo Infante, Ricardo Terrades, Roberto Molina, Santi Monjo, Aleix Gelabert, Nacho Murube, Adolfo López, Álvaro García Candau, Nacho González Lamadrid and Natalia Via-Dufresne.