Back to top
Estrella Damm, one of the most valuable Spanish brands in the world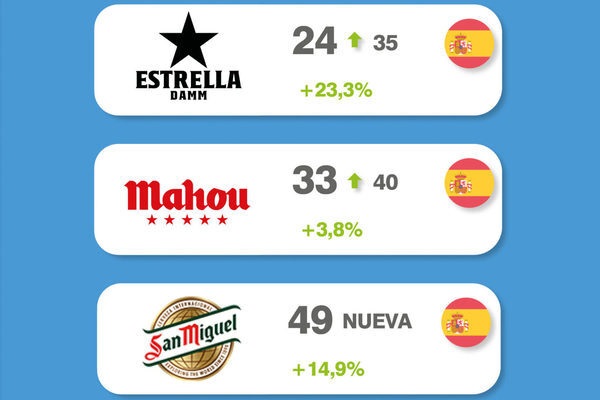 The brand is ranked number 24 in the international "Beers 50 2021" ranking of the world's most valuable beer brands
The consultancy Brand Finance has released the 'Beers 50 2021' ranking, which lists the most valuable beer brands in the world in terms of brand value and places Estrella Damm at number 24 in the ranking.

According to the "Beers 50 2021" report presented by the consultancy, Estrella Damm's brand value increased during the health crisis. Despite the closures and severe restrictions on sales in the domestic market due to the pandemic, Estrella Damm's value increased by 23.4%, rising by 11 in the ranking to number 24, placing it among the 25 most valuable beer brands in the world.

The managing director of Brand Finance Spain, Teresa de Lemus, explained that Spanish breweries "will continue to advance in critical areas of development during the pandemic, strengthening their role as drivers of social transformation".

"Recovery will be gradual and will take time, but this crisis also gives brands the opportunity to reinvent themselves. Spanish cultural tradition and the desire to meet again with a beer in our hands will help us make a speedy recovery," said De Lemus.

Brand Finance is the world's leading independent brand strategy and valuation consultancy. Based in London, it was founded in 1996 with the aim of "bridging the gap between marketing and finance" by helping businesses and organisations of all kinds connect their brands to their bottom lines.
 
Photo and source: Brand Finance Alcoholic Drinks 2021




Brandirectory.com/alcoholic-drinks