Back to top
Estrella Damm Sailing Team returns to the Copa del Rey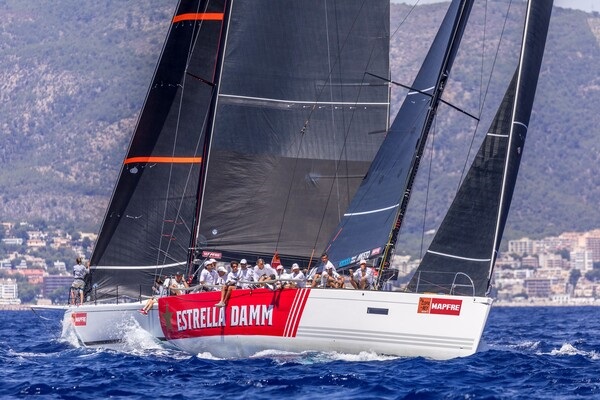 Estrella Damm once again demonstrates its historic support for sailing
Since 2 August, the Estrella Damm Sailing Team 2021 has been taking part in the 39 edition of the Copa del Rey Mapfre, the most important cruising regatta in the Mediterranean, which is being held in Mallorca until Saturday 7 August. The Estrella Damm Sailing Team, owned by Nacho and Arturo Montes, have defended the title of overall winner of the Copa del Rey in the BMW ORC1 category, won in the 2018 and 2019 competitions. They had previously won in 1998.

On this occasion, they launched a new boat, a latest-generation unit known as the XP50, which will take over from the DK46, with which it has participated in the two previous competitions. This will increase the length by four feet, which will increase the number of crew members from 14 to 16.

Estrella Damm Sailing Team 2019 co-skipper Nacho Montes, winner of three Copa del Rey regattas, explains that they are looking forward to the regatta in Mallorca: "As always, participating in the Copa del Rey is something unique. In our case, we also have the responsibility of defending the title we won in the last two competitions. We are doing it with a new boat, with a very good feeling and, as always, with a lot of desire and ambition.

The Estrella Damm Sailing Team crew 2021 in the Copa del Rey Mapfre will be as follows from stern to bow: Luis Martínez Doreste (helmsman), Hugo Rocha (tactics), Gonzalo Infante (navigation and weather), Ricardo Terrades (main trimmer), Roberto Molina (genoa trimmer), Nacho Murube (spinnaker trimmer), Nacho Montes and Vladimir Kushnir (breaststroke), Álvaro Fernández Candau and Paco Montes (piano), Manuel Martín Ovando and Nacho Montes (cockpit), Adolfo López Quevedo and Nuno V. Barreto (mast) and Gonzalo Morales and Oleg Krivov (bow).

A very balanced crew that includes multiple Copa del Rey winners, medallists and Olympic sailors.

Estrella Damm and its link with sailing

The relationship between Estrella Damm and sailing goes back more than 20 years, with the first sponsorships of the Copa del Rey de Vela (Palma de Mallorca), a competition in which it won 1998, 2018 and 2019. In 2007 and 2010 he took part in 32 and 33 the America's Cup, the same years in which he took part in the first and second instances of the Barcelona World Race, the only round the world regatta with two crew and no stopovers, and with sails designed by Custo Dalmau.

Today, and after 145 years of history, Damm's presence in the world of sport knows no limits, and the company continues to be committed to all its disciplines in events. This includes both national and international events related to football, basketball, tennis, paddle tennis, sailing and golf, among others.