Back to top
Estrella de Levante promotes the hop cultivation in Murcia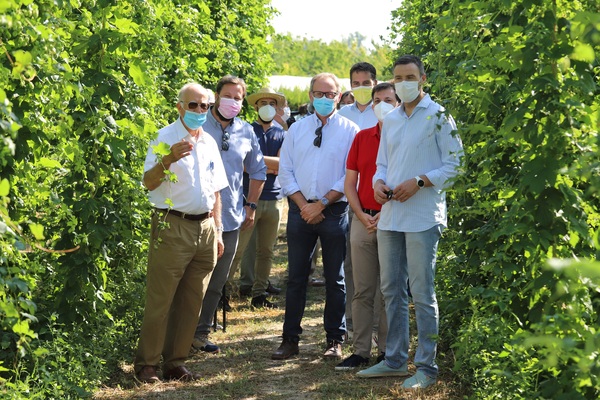 Several farmers in the area have joined this project that hopes to reach 25 hectares in 2025 years
In 2018 Estrella de Levante started with the hop cultivation project in a first experimental phase at the Centro de Demostración Agraria 'Las Nogueras' of the Comunidad Autónoma which, already in 2020, started producing optimal results for large-scale production. From that moment on, several farmers in the area joined the initiative which, today, already has 5 hectares of crops spread over three farms - two in Caravaca de la Cruz and one in Moratalla - dedicated to the production of hops, which are used for brewing beer.

Hops provide the degree of bitterness and aromas that the beer requires due to their lupulin content, a substance made up of essential oils that give the beer its different aromas, and resins that provide the alpha-acids responsible for its bitter taste. In addition, it also contributes to the formation and stabilisation of beer foam.

To see the evolution of the project, on 27 July, Pedro Marín, General Manager of Estrella de Levante and José Francisco García, Mayor of Caravaca, accompanied by Francisco Marín, General Manager of the Environment of the Autonomous Community, visited one of the experimental crop farms located in Caravaca de la Cruz, whose harvest was in the production phase. During the day, the attendees, who also included representatives from different research centres in the region, were able to visit the warehouse where the hops obtained from the hop fields are processed, also located in Caravaca de la Cruz.

"The aim of this project is to continue working so that, in the near future, Estrella de Levante will use all local raw materials in the brewing process, thus becoming a zero-kilometre beer, something that very few can do in the brewing industry", explained Pedro Marín, Estrella de Levante's general manager. In this way, the company continues to work on its commitment to care for the environment, reducing the emission of polluting gases from transport and controlling the resources used throughout the production process, from the field to the table.

Fash Food event in the hop fields

The week before the visit, the twelfth edition of the Fash Food surprise dinners was held in the same field. A spectacular event, sponsored by Estrella de Levante, in which 40 diners were able to taste a menu created by chef Rodi Fernández among the hops. Attendees also enjoyed a tasting of the different Estrella de Levante beer specialities, guided by Estrella de Levante's tasting master, Héctor Pastor.