Back to top
Estrella de Levante will replace nearly half a million litres of beer in bars and restaurants when they open to the public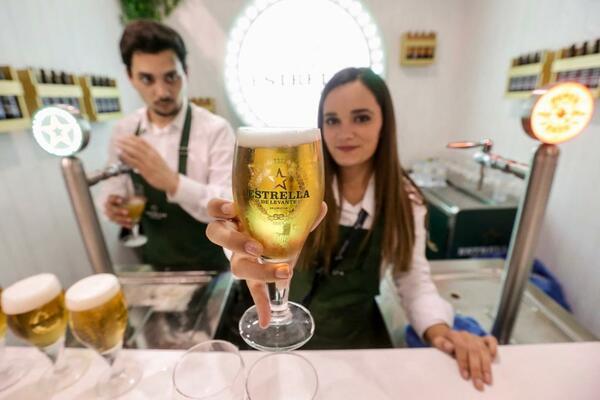 This measure, which is the equivalent of more than 2 million cañas, small draft beers, is in addition to the maintenance and cleaning which the beer company is carrying out for its customers
Estrella de Levante has promised all of its customers in its area (Murcia, Alicante, Valencia, Madrid, Albacete, Almería, Granada, and the Balearic and Canary Islands) that it will replace the beer that was on tap at the time of the closure of bars and restaurants, in barrels of all the brands (Estrella de Levante, Estrella de Levante tostada, Punta Este, Verna and Estrella de Levante 0,0) as well as in 500 and 1,000 litre beer drive tanks.

The beer company from Murcia will replace more than 400,000 litres of beer, equivalent to more than two million cañas, small draft beers, to help out bars when they reopen. This measure means an investment of more than four million euros in the hospitality industry in the area.

Pedro Marín, Managing Director of Estrella de Levante, explains that "it is essential to support our customers at this time, so Estrella de Levante will replace all the barrels that our customers have on tap and refill beer drive tanks, to help bar and restaurant owners get started again. We will also keep up our usual contributions to the sector in full".
This is in addition to the maintenance and cleaning that the beer company is carrying out in all of its customers' premises, with whom the sales department has been in contact from day one.

Coordination with hospitality industry associations
From the beginning, Estrella de Levante has been working with the hospitality industry associations (Hostemur, Hostecar, Hostelor and Hosteáguilas), with which it has cooperation agreements, so that all the needs of the sector, now and in the immediate future, are taken into account. "We have shared information and are working to understand the hospitality industry's needs and to help it in any way possible. Bars and restaurants will be very important to a solid and effective reactivation of the economy. The sector knows that it can count on Estrella de Levante to communicate its needs to the government and that it will work with local governments and councils," stresses Marín.