Back to top
The Katilu restaurant from Legazpia, winner of the first Keler beer pouring contest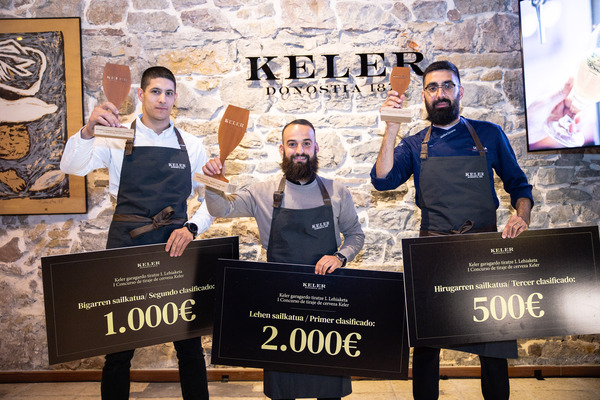 The call to participate in the contest was sent via Bar Manager, the hospitality services app that connects Keler to bartenders and industry professionals
The Katilu restaurant from Legazpia won the first edition of the Keler Beer Pouring Contest, the beer from Donostia since 1872, at a final held in the Convent Garden of San Sebastián.

The call to participate in the contest was sent in mid-May through Bar Manager, the hospitality services app. In order to participate, prospective contestants were asked to record themselves pouring a glass of beer, and then to upload the video to the contest platform. From among all the videos uploaded from working hospitality professionals and hospitality students, a specialized jury selected 11 finalists, while the twelfth went on to the final for being the most voted video by users of the app.

The winner of this first edition was Ion Paredes from the Katilu restaurant (Legazpia), who was awarded a check for 2,000 euros. Second place went to Aitor Calvo from Fournier Cafetería (Vitoria), and third to Jaizkibel Zunzarren from Bar Ulzama (Pamplona), who were awarded 1,000 and 500 euros respectively. The other competition finalists were: Iñaki Carnerero, from Casa Alcalde (Donostia); Eladia Feliz, from Maiatza Taberna (Legazpia); Asier Murua, from Pub Murgil (Beasain); Oskar Carro, from Ansoategi Herrikoa (Lazkao); Joseba Koldo Oruebazala, from Bar Aiete (Donostia); Ramón Rodríguez, from Ramontxu (Mungia); Ariane Pablo, from Bar Ados (Bilbao); Joel Hidalgo, from BarPunto (Vitoria) and Raquel Olivera from Bar Calipso (Pamplona).

The jury from the first Keler Beer Pouring Contest was comprised of: Miquel Herrando, professor at the Cebanc School of Hospitality; Mikel Martínez, Chairman of the Tapa y del Pintxo Academy; Nere Ariztoy, gastronomic consultant; Lore Azpitarte, Head of Marketing for Keler; Albert Forges, Head of Quality for Keler, and Rafael Rodríguez, Head of Sales for Keler.

Some of the criteria that the jury took into account to assess the beer pouring were the technique used (opening of the tap, degree of ninclination of the glass, pressure, etc.), the presence of bubbles, the washing of the glass, or the presentation of the glass on the bar, among others.

Keler's aim for this contest was to recognize the work by hospitality professionals, as well as to encourage good beer pouring so that consumers may enjoy everything a good beer has to offer.