Back to top
The Nómada Beach grilled calamari, winner of the "Best beach bar tapa" contest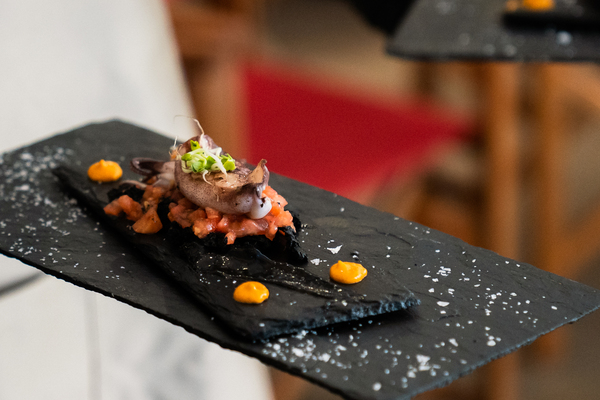 Xiringuito Cala Montjoi, Chiringuito Chalito, Chiringuito Ibiza and Bar d'Amunt are the finalists of this 1 edition of the contest promoted by Damm Lemon, which seeks to find the best beach bar tapa along the Catalonian coast
The Nómada Beach grilled calamari has won the first edition of the "Best beach bar tapa" contest held by Damm Lemon, Damm's Mediterranean shandy. The final of the contest, which sought to find the best beach bar tapa of the Catalonian coast was held at the Old Estrella Damm Brewery and hosted by gastronomic journalist and communicator, Carme Gasull.

Last July, Damm's Mediterranean shandy launched the "Best beach bar tapa" contest, encouraging those beachfront venues in Cataluña that offered Damm Lemon on their menus, to submit their signature tapas. Damm Lemon also enjoyed the participation of its consumers during the selection process, who were able to vote for their favourite tapas on the contest website. Among all the beach bars that participated from all along the Catalonian coast, five made the finals thanks to voting by the public.

Patricio Aguirre, chef at the Nómada Beach beach bar (Sitges), who won this first edition of the contest thanks to his grilled calamari; a dish made with squid, romesco sauce, homegrown tomatoes, and black alioli, was awarded a check for 1,000 Euros, a weekend in Ibiza, and a culinary experience at the Cala Bassa beach bar. The other four finalists were the grilled mussels from Xiringuito Cala Montjoi (Roses); the camambert octupus from Chiringuito Chalito (Castelldefels); the crayfish and calamari twister from Chiringuito Ibiza (Vilanova i la Geltrú); and the anchovies in vinegar from Bar d'Amunt (Colera).

In order to decide which was the best beach bar tapa in Cataluña, the five finalist venues prepared their tapas live during the contest final. The professional jury tasked with determining the winning tapa was comprised of culinary journalist Ferran Imedio, Carlota Claver, chef and owner of La Gormanda (Barcelona), and Albert Forges, Damm's master brewer.