Back to top
Victoria, sponsor of the Spanish National Football Team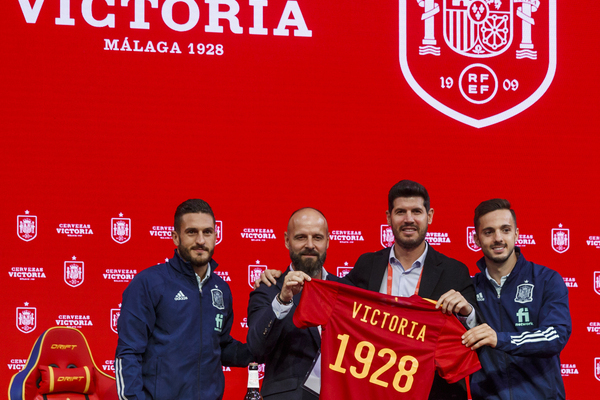 The agreement was formalised at a presentation attended by international players Koke and Sarabia


Cervezas Victoria and the Real Federación Española de Fútbol (RFEF) made the agreement official this morning by which the brewery becomes the official beer of the Spanish men's and women's national football teams. The presentation took place at the Ciudad Deportiva de Las Rozas and was attended by the players Jorge Resurreción (Koke) and Pablo Sarabia, as well as the representative of the Spanish Football Federation, Albert Luque, and the head of Institutional Relations of Cervezas Victoria, Sergio Ragel.

During the presentation event, sports journalist Saul Ramos spoke with Sarabia and Koke, who recalled their first moments as players for La Roja. After the press conference, both players went to the pitch to drink the first glass of Victoria beer and toast to the journey they are starting today with the brand.

This agreement makes Victoria the official beer of the men's and women's national football team until 2022, when the European Championship, which will be held from 11 June to 11 July, and the FIFA World Cup in Qatar 2022 will be played. In this way, the Malaga-based company founded in 1928 joins the group of companies sponsoring the RFEF with a brand presence at national team matches organised by the RFEF.

Sergio Ragel highlighted during the press conference that "this agreement between Victoria and the Spanish National Football Team means the union, for the first time, of two brands with a lot in common, being committed to passion, doing things well and achieving Victory".